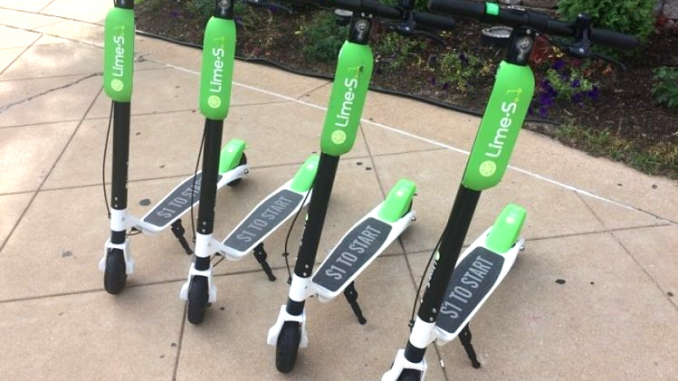 BY EMILY MIBACH
Daily Post Staff Writer
The Mountain View City Council has passed a temporary ban on the electric scooters that have taken the downtowns of San Jose and San Francisco by storm. Council is hitting the pause button so it can work on ways to regulate them.
Council made the move Tuesday (June 25) after the city had been approached by a few unnamed scooter companies that want to put their scooters out in Mountain View.
Electric scooter companies such as Bird, Lime and Skip allow for riders to hop on one of their scooters after setting up an account through the company's app, where the rider pays for their ride, similar to Uber and Lyft.
Riders can look on the app and see where the nearest scooter is, activate it with their app and then leave it wherever they want for the next person to use.
This has caused issues in other cities where scooters are being left in the middle of sidewalks, in gutters, in people's front yards and other places, prompting officials to regulate the businesses and their scooters. Mountain View's ban, passed Tuesday, was an attempt to pre-empt the placement of scooters by companies in town.
Assistant Public Works Director Dawn Cameron told council that in other cities, such as Campbell, San Francisco and San Jose, scooter operators put scooters out on the streets before officials could pass regulations.
Cameron said city officials are worried that without regulations, the scooters will be strewn about the city and that riders will ride on sidewalks.
Exceptions
The ban excludes Google bikes and the city's bike share program with Ford GoBike, Cameron said. Also excluded are scooters that residents own.
However, similarly run bike share programs cannot replace the city's bike fleet with scooters, which the company has done in some towns. But Councilman Chris Clark said that perhaps bike share companies that are already working in the city ought to be allowed to start rolling out scooters.
Councilman John McAlister said the city has enough experience with regulating the bike share programs that he didn't see the reason for not just using the same rules for scooters. McAlister was the council member who voted against the ban.
But Cameron said bike parking is easier than scooter parking, and that the city may need to designate certain areas for scooters to be parked.
The city's Bicycle and Pedestrian Advisory Committee has already started work on the scooter pilot program, discussing potential parameters of the program last night. It is anticipated that the council will have a study session on the scooter pilot program in the fall.