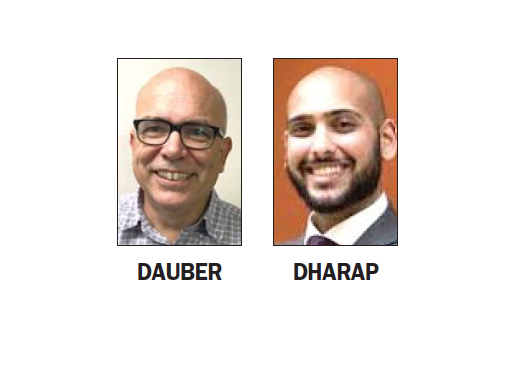 DAILY POST EDITORIAL
Let's start off this editorial by admitting we made a mistake four years ago when we didn't endorse Ken Dauber for Palo Alto school board. We were concerned that he would demonize the district's employees who disagreed with him and wouldn't act with civility if he joined the board. Honestly, we were wrong about both counts.
He's been very respectful to the district's employees, as well as parents. And, as president of the board this year, he's made sure that everybody gets their opportunity to speak. He's civil and congenial, and has comported himself in an exemplary manner.
And we never thought we'd be saying this, but Dauber has been the voice of reason on the board.
For example, in May 2016 when he was the only board member to vote against a multi-year teacher contract, saying the increases weren't necessary given the labor market and that the amount of money the board was committing to spend put the district at risk.
Dauber was vindicated four weeks later when the board discovered that the district's finance department had overestimated property tax revenues, creating a multimillion-dollar budget shortfall. The district had to claw back part of the raises.
Dauber also deserves credit for holding former Superintendent Max McGee accountable for mistakes his administration made. McGee's staff missed a deadline to reopen contract negotiations with the union to take back the raises the board had approved in 2016. And they mishandled the investigation into a sex assault at Palo Alto High School.
Dauber was the first board member to call for McGee to resign.
Dauber has said all along that he wants to get the district into compliance with laws that protect the rights of students, including federal Title IX. A lack of compliance in the past has caused the district's legal bills to soar, but he contends that now the district is doing a better job of obeying these laws, and the litigation costs should be declining in the years ahead.
He says that compliance is a non-negotiable aspect of operating a school district.
He's pushed for more counseling in the high schools and for a greater focus on social-emotional learning. He favors restrictions on the amount of homework students receive, but he admits there's room for improvement.
After four admittedly rough years, we think Dauber has put the district on the right track and has earned re-election.
Dauber is the only incumbent seeking re-election to the board this year. Terry Godfrey, the other incumbent, decided not to run again. And five candidates are running besides Dauber.
We were most impressed by Shounak Dharap and Stacey Ashlund. Either one would make an excellent board member.
Ashlund is a special education advocate and 18-year volunteer in the schools. She's served on the PTA Council and Partners In Education. She knows the issues well and would provide a parent's perspective on the board.
Dharap is a 28-year-old attorney who graduated from Gunn High School. He and his wife don't have any children yet, but they're thinking ahead to when they do. His experience in the schools comes from being a student. Electing a former student without children isn't unprecedented in Palo Alto. Santa Clara County Supervisor Joe Simitian (Palo Alto High Class of 1970) was a young attorney when he was elected to the Palo Alto school board in 1983.
Dharap reminds us of Simitian — he's intelligent, knows the subject matter and is responsive to the community.
While it's a difficult choice between these two newcomers, we recommend Dharap and hope that Ashlund runs in two years when three seats will be up for grabs.