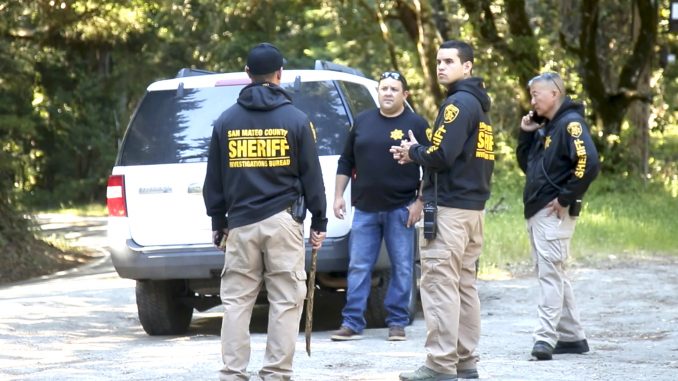 BY EMILY MIBACH
Daily Post Staff Writer
New details have emerged in the stabbing murders of two men on Skyline Boulevard as the suspect in the case, Malik Dosouqi, 26, of Pacifica, arrived in San Mateo County Superior Court in Redwood City with a cast on his arm.
Dosouqi is charged with first-degree murder in the June 17 murder of cab driver Adbulmalek Nasher, 32, of Pacifica, and the June 18 murder of tow truck driver John Sione Pekipaki, 31, of East Palo Alto.
Among the new developments:
• Both Dosouqi and Nasher, the cab driver, lived in Pacifica and were originally from Yemen. District Attorney Steve Wagstaffe doesn't know if the two knew each other.
• It's unclear why Dosouqi was wearing a cast and bandages in court yesterday, after he spent two days in the hospital last week, but it's possible he was injured either during a fight with Pekipaki, the tow truck driver, or when he crashed his car into a ditch.
"Pekipaki clearly fought," said Wagstaffe. "He was a big man and clearly struggled … He may have gotten the knife away from Dosouqi."
Wagstaffe said the large flat knife used to stab both Pekipaki and Nasher was found next to Pekipaki.
• Dosouqi appeared in court on Monday (June 24) with an attorney he hired, George Borges of San Francisco. But at one point during the hearing, Dosouqi said he wanted to represent himself.
• Wagstaffe has said that he believed Dosouqi's mental health will be an issue that both the defense and prosecution will investigate.
• Prosecutors believe Dosouqi lured both victims to Skyline Road, but his motive is unknown.
Death penalty possible
And, as the Post reported Saturday, Dosouqi is eligible for the death penalty, though the DA's office hasn't decided whether to seek it. A committee of prosecutors will evaluate the evidence in the case before deciding whether to seek capital punishment.
Gov. Gavin Newsom in March ordered a moratorium on the death penalty, thus granting a reprieve for the 737 people on death row. But the moratorium will only last as long as Newsom is governor because the death penalty is still on the books. Only California voters can repeal the death penalty, something they rejected two years ago by a 53.6%-46.4% ratio.
Two murders a night apart
The Dosouqi case unfolded on the evening of June 17 when deputies found Nasher's body on the west side of Skyline Boulevard, north of Reids Roost Road.
When deputies returned the next evening to look for evidence, they heard somebody calling for help and found Pekipaki lying on the ground with stab wounds in a turnout off Skyline Boulevard. Pekipaki later died.
Around the same time, deputies saw a man in a BMW driving toward them. Deputies fired at the oncoming BMW. The car drove off the roadway and into a ditch. Behind the wheel was Dosouqi, who was taken to a hospital and later arrested.
Dosouqi is in jail and is not eligible for bail. He returns to court on July 8.
Only a fraction of the local news stories covered by the Daily Post appear on this website. To get all the local news, including many stories you can't find online, pick up the Post every morning at 1,000 Mid-Peninsula locations.