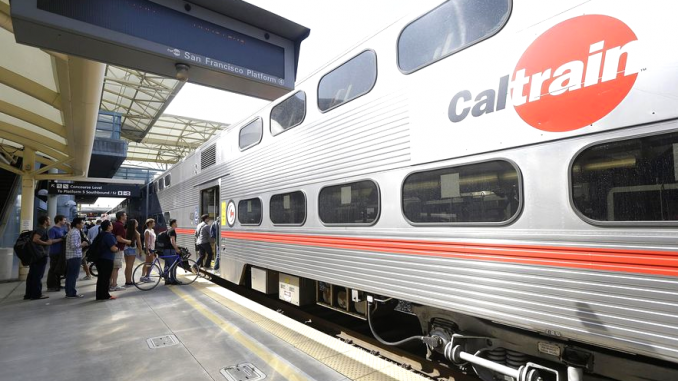 This story was originally printed on April 29 in the Daily Post.
BY EMILY MIBACH
Daily Post Staff Writer
A survey commissioned by Caltrain shows that if the commuter railroad were to put a tax on the ballot, it wouldn't get enough votes to pass.
Caltrain hired EMC Research of Oakland to poll 1,416 likely voters to see if they would support either an eighth-of-a-cent or a quarter-cent sales tax hike.
The eighth-of-a-cent hike would raise $100 million a year, and the quarter-cent $200 million.
Such taxes would require a two-thirds, or 66.7%, approval in the three counties that Caltrain serves: San Francisco, San Mateo and Santa Clara. According to EMC's polling, only 63% of respondents said they would vote for a Caltrain tax.
Once EMC gave the respondents some arguments in favor of Caltrain and how the tax would help the trains, 66% said they'd vote for the tax, still just a bit short of the needed two-thirds supermajority. But, after EMC read some arguments against the tax, only 55% of respondents said they'd vote for the tax.
Opposition arguments tested
EMC warns that the tax is vulnerable to opposition, and the opponents would use an argument like this:
"The new gas tax and bridge tolls are already supposed to be going toward transit, but there's just no way public transit improvements are going to significantly relieve the terrible traffic on our clogged freeways or roads."
EMC also anticipates opponents would say that tech companies in the area ought to pay for improvements in the area, "and it's just not fair to saddle the taxpayers with a 30-year tax to subsidize a public transit system that only serves a small number of high-income tech commuters."
But EMC said a tax hike stands a better chance of winning if proponents said it would reduce traffic on the freeways and El Camino Real, reduce air pollution and that the tax would have a detailed expenditure plan.
Despite the poll, EMC says Caltrain officials shouldn't lose hope.
"While it's not quite at the required two-thirds support today, with the right environment and effort, a sales tax measure for Caltrain may be feasible in 2020," EMC's report says.
Support strongest in San Mateo County
A tax had the most support in San Mateo County (68%), followed by San Francisco (67%) and Santa Clara County (60%).
Chief Communications Officer Seamus Murphy said in a memo to the Caltrain board that the tax would "provide Caltrain with a dedicated funding source." Currently, Caltrain is subsidized by transit agencies in the three counties it serves.
Did you know that only some of the local news stories the Daily Post covers appear on this website? To get all the local news, including many stories you can't find online, pick up the Post every morning at 1,000 Mid-Peninsula locations.