BY EMILY MIBACH
Daily Post Staff Writer
The Redwood City Council has selected a map to divvy up the city into seven voting districts, so in the 2020 council election residents will only be able to vote for one council member instead of all seven.
The map selected by council on Monday (May 6) includes two so-called minority majority districts — in those districts, the majority of residents are Latino.
The map also has Redwood Shores as its own district — something that has been repeatedly requested by residents there since the districting process began.
Ultimately, the decision came down to two maps, which were very much the same, except one map had nine neighborhoods intact among the districts, while the other had 10 intact neighborhoods.
The map with 10 intact neighborhoods, along with two minority majority districts and the solo Redwood Shores district, was approved 6-1, with Councilwoman Alicia Aguirre dissenting.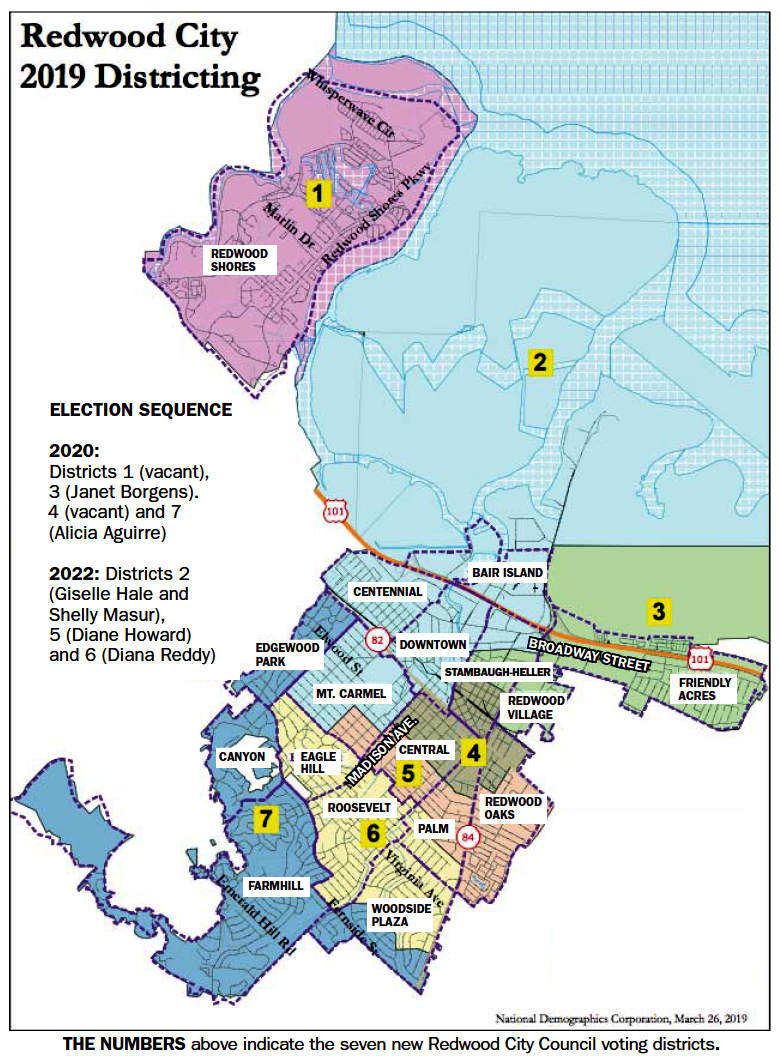 Aguirre had initially voted for the nine-neighborhood map.
What prompted the change?
The city has to switch from at-large council elections to by-district elections because of a threatened lawsuit from Malibu attorney Kevin Shenkman.
In his August letter to the council, Shenkman pointed out that despite the large Latino population in Redwood City, there has only been one Latina on council for the past 15 years — Aguirre.
Shenkman also contends that the at-large election process makes it harder for Latinos to win seats on council.
Other local elected bodies that have had to make the switch to district elections are Menlo Park City Council, Sequoia Union High School District, the Redwood City Elementary School District and the San Mateo County Community College District.
Did you know that only some of the local news stories the Daily Post covers appear on this website? To get all the local news, including many stories you can't find online, pick up the Post every morning at 1,000 Mid-Peninsula locations.