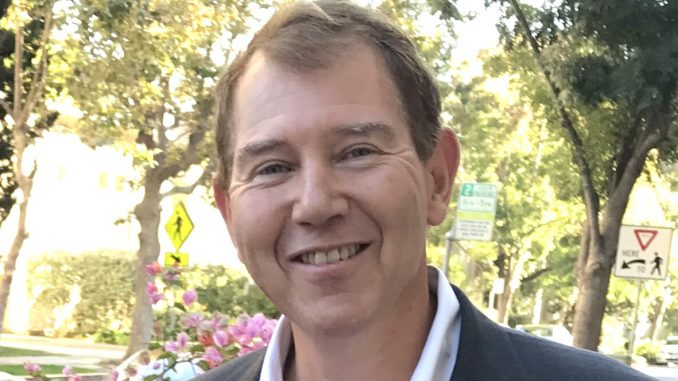 BY ALLISON LEVITSKY
Daily Post Staff Writer
Palo Alto City Council got to grill a former colleague, former Mayor Greg Scharff, last night (Monday, April 29) when he interviewed for an open seat on the Utilities Advisory Commission.
Scharff, 56, didn't make it in person to the interview, however. He explained over a video chat that he was in Washington, D.C., lobbying for a bill supported by Congresswoman Anna Eshoo.
Concerns about attendance
Councilwoman Alison Cormack told Scharff that the council had received a number of emails from residents with concerns about his attendance at meetings — an issue raised when he was running for a seat on the Midpeninsula Regional Open Space District board last year.
He missed a number of meetings of the San Francisquito Creek Joint Powers Authority and Caltrain Modernization Program Local Policy Maker Group.
Scharff said that during the eight years he was on council, he made it to almost every council and committee meeting, assuring Cormack that he would be "totally committed to attending every meeting" of the Utilities Advisory Commission.
Councilman Tom DuBois asked Scharff what he thought the council should think about his experience and view of the council versus letting someone new volunteer.
Scharff responded that his institutional knowledge was a clear asset.
"I've been working on our utilities for 10 years, and I think that's worth something," Scharff said.
Is this the year for fiber?
Mayor Eric Filseth went on to ask Scharff whether he thought this was the year the city would "do something about fiber" — the city's long-running exploration of making ultra-high-speed internet available — if the city would push it off again.
"That's really up to you guys," Scharff responded with a smile.
When Councilwoman Liz Kniss asked Scharff whether the undergrounding of utilities would happen in her neighborhood, he responded that, again, that was up to council.
"I always thought we should put it to a vote of the people, frankly," Scharff said. "We could do it. It's just really a matter of money and how you fund it."
Scharff is vying for one of four open seats on the commission, as are 11 other candidates, including incumbents A.C. Johnston and Judith Schwartz.