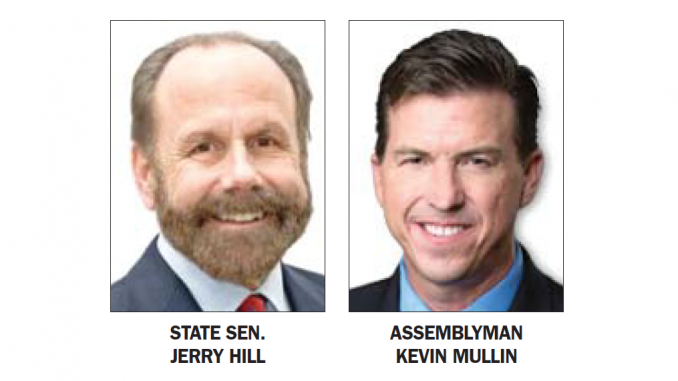 BY EMILY MIBACH
Daily Post Staff Writer
Canada College in Redwood City may eventually be called CSU Silicon Valley if state legislators Jerry Hill and Kevin Mullin's plans work out.
Assemblyman Mullin, D-South San Francisco, and Sen. Hill, D-San Mateo, sent a letter to the Senate Budget Committee asking for $1 million to study whether it's possible to have a permanent California State University located on Canada's campus.
Hill and Mullin argue that a permanent public four-year college is needed in San Mateo County. They say some students are unable to make the commute to CSU East Bay (in Hayward) or the Cal State campuses in San Francisco or San Jose state.
In the last five years, 7,112 students in San Mateo County obtained an associate's degree, but were not able to go on to obtain a four-year college degree, the letter states. Hill and Mullin said that many of those who received the two-year degree were not able to go to a four-year college because of the traffic congestion and housing crunch in the area.
A data sheet attached to the letter said that among those who did not further their education past an associate's degree:
• one in three was among the first generation in their family to go to college;
• six out of 10 were women;
• and most qualified as low-income, based on federal student aid guidelines.
For years, there have been attempts to make it easier for students at the three San Mateo County Community Colleges (Canada, College of San Mateo and Skyline in San Bruno) to get a bachelor's degree. Hill and Mullin said that shows the need for a four-year college in the county.
Currently, through a partnership with San Francisco State, students at Skyline can get a bachelor's degree in respiratory care. Students at Canada can get a bachelor's in human services, business administration and psychology through a partnership with Notre Dame de Namur University in Belmont.
According to the legislators' letter, students at Canada were able to get teaching credentials, an MBA and a degree in child development through a partnership with San Francisco State from 2002 to 2008. However, that program was scrapped due to budget cuts.
There are only two four-year colleges in San Mateo County, Menlo College in Atherton and Notre Dame de Namur in Belmont. San Mateo County, along with Marin and Napa, are among the only Bay Area counties that do not have a CSU or UC located in the county.