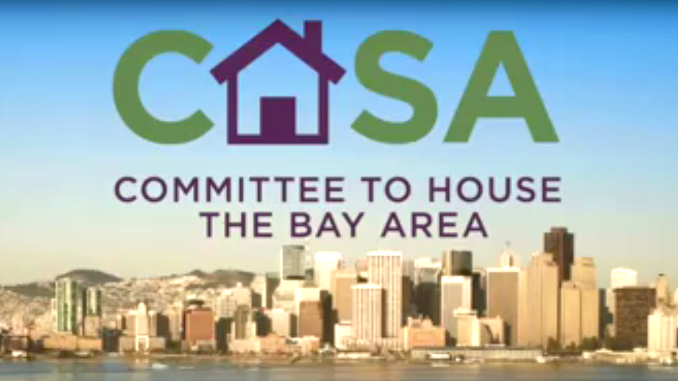 BY EMILY MIBACH
Daily Post Staff Writer
A San Francisco-based news website, 48 Hills, is suing the Metropolitan Transportation Commission because it has repeatedly slow-walked or flat out denied public records requests about the agency's efforts to start a regional housing agency, according to a new lawsuit.
Tim Redmond, 48 Hills' editor, filed the lawsuit in San Francisco County Superior Court on Monday (April 15) against the MTC for its repeated failure to release records to his reporter, Zelda Bronstein. The suit accuses MTC of violating the California Public Records Act.
Beginning in December, Bronstein requested "all documents concerning monies that have been passed through MTC to fund CASA," the proposed regional housing agency.
That was part of a larger public records act request to MTC, seeking documents pertaining to monies MTC dolled out to CASA members for a trip to New York.
The CASA Compact is a plan by MTC and the Association of Bay Area Governments (ABAG) to create a new regional government agency that could bypass local zoning rules and raise taxes by $1.5 billion a year to build housing.
Bronstein eventually received partial responses to both parts of her request. On April 10, Bronstein got documents relating to the cost of CASA from Jan. 27 to March 6, according to the lawsuit.
In that release, MTC did not provide any legal justification as to why it continued to withhold the rest of the documents requested by Bronstein, the lawsuit said.
Bronstein and Redmond are investigating CASA, which has been touted as a "grand bargain" for the Bay Area, made up of multiple bills that are working their way through the Legislature in Sacramento.
But Redmond says it isn't a deal at all, arguing that the rent-related clauses in CASA likely won't get approved, nor will some of the funding mechanisms.
"Whatever you believe regarding this, the public has the right to know where our taxpayer dollars are going," Redmond told the Post.
MTC spokesman John Goodwin declined to comment on the litigation or the back-and-forth MTC has been having with 48 Hills.