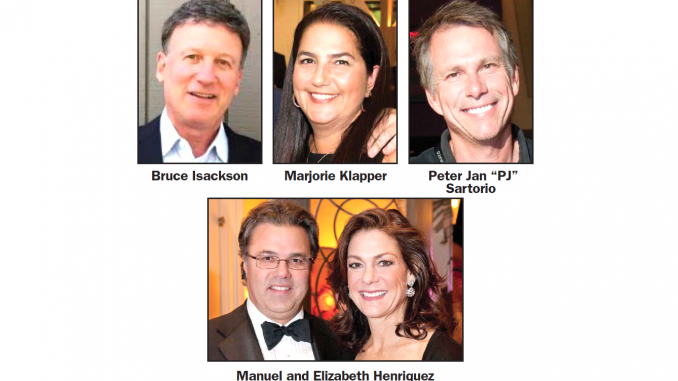 It appears federal prosecutors gave the parents implicated in the college admissions cheating scandal a choice — plead guilty and face a minimal prison sentence or get hit with an additional charge of money laundering that carries a maximum of 20 years in the big house.
On Monday (April 8), 13 parents including four from the mid-Peninsula took the deal, each agreeing to plead guilty to a single charge of conspiracy to commit mail fraud and honest services mail fraud. Prosecutors say they will seek prison sentences for the 13 ranging from six months to a few years.
Today (April 9), a federal grand jury indicted the 16 parents who refused to take the deal on charges of money laundering, including Manuel and Elizabeth Henriquez of Atherton and Marci Palatella of Hillsborough.
Manuel Henriquez, 55, is the CEO of Hercules Technology Growth Capital, a venture capital company based in Palo Alto. The Henriquezes are accused of paying to have the tennis coach at Georgetown recruit their older daughter as a student athlete and to have proctors help both their daughters cheat on their SAT and ACT tests.
Palatella is married to former San Francisco 49er Lou Palatella, 85, and is the CEO of a liquor distribution company in Burlingame. She is accused of paying to have her son recruited as a USC football player and for paying for her son to get help cheating on the SAT.
Another local couple who apparently refused the deal are Dr. Gregory Colburn, 61, and his wife Amy Colburn, 60, who are accused of paying $25,000 to admitted admissions fraudster Rick Singer to help their son cheat on the SAT.
The Colburns were hit with additional charges of money-laundering and mail fraud conspiracy on March 26 after they demanded a preliminary hearing. Their lawyers say the money laundering charge was filed in retaliation for asking for the hearing, which would force prosecutors to produce evidence faster than if they had waived such a hearing.
The local parents who agreed on Monday to plead guilty to the fraud charges include jeweler Marjorie Klapper, 50, and Peter Jan "P.J." Sartorio, 53, the founder of an organic frozen-food company. Each is from Menlo Park.
Also a Hillsborough couple, Bruce and Davina Isackson, are not only pleading guilty but have agreed to cooperate with the investigation in order to get a chance at a lighter sentence.
The two actresses charged in the case — Felicity Huffman of "Desperate Housewives" fame and Lori Loughlin, who played the Aunt Betty character on "Full House" — have chosen different paths in the case.
Loughlin and her fashion designer husband Mossimo Giannulli refused the deal and were hit yesterday with additional money-laundering and mail fraud charges. On the other hand, Huffman agreed Monday to plead guilty to a single charge of conspiracy to commit mail fraud and honest services mail fraud.
— From staff and wire reports