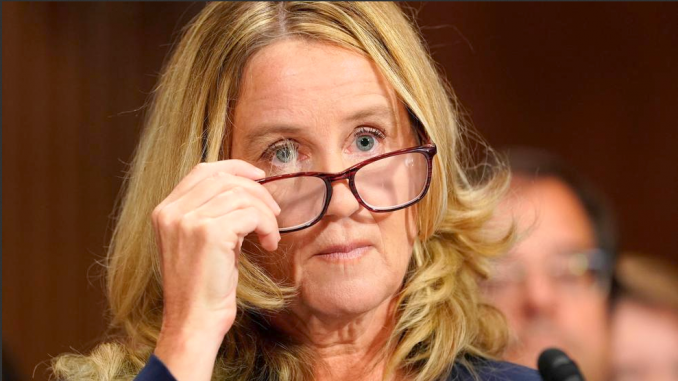 BY ALLISON LEVITSKY
Daily Post Staff Writer
Christine Blasey Ford, the Palo Alto psychologist who accused Supreme Court Justice Brett Kavanaugh of trying to rape her when they were in high school, has been named the 24th Assembly District's Woman of the Year by Assemblyman Marc Berman, D-Palo Alto.
Ford, 52, continues to do biostatistics research and work with doctoral students at Palo Alto University but is not currently teaching classes, a university spokeswoman said yesterday (March 4).
Berman will present Ford with the award at a private event later this month.
"In a remarkable act of courage, Dr. Ford put the country ahead of her own well-being, speaking out in the most public way imaginable about her sexual assault," Berman said in a statement. "Dr. Ford exhibited strength and dignity under the most extraordinary conditions, and in telling her truth, she paved the way for countless other survivors to tell their own."
The award commemorates Women's History Month by having legislators choose a woman from each Assembly District to honor for her contributions to the district and the state.
Ford has worked in the Department of Psychiatry and Behavioral Sciences at the Stanford School of Medicine since 1998. She's also a psychology professor in the Stanford-PGSP Consortium for Clinical Psychology, a collaborative program between Palo Alto University and Stanford.
'Civic duty'
"Dr. Ford's tremendous courage and strength are a testament to her civic duty and she will forever be an inspiration to countless Americans, including me, that believe survivors who are willing to risk everything to tell their truth," state Sen. Connie Leyva, D-Chino, said in a statement. Leyva chairs the state Legislative Women's Caucus.
Ford came forward with the allegations to Sen. Dianne Feinstein in July, weeks after President Trump nominated Kavanaugh to fill Anthony Kennedy's Supreme Court vacancy.
In September, she testified to the Senate Judiciary Committee that at a house party in Bethesda, Maryland, a drunken Kavanaugh pinned her down on a bed, tried to pull her clothes off and covered her mouth while another boy turned up the music to drown out her screams.
Kavanaugh denied the allegations, and Republicans on the committee said her claims lacked corroboration. The Senate then voted to confirm Kavanaugh's lifetime appointment on Oct. 6.
City proclamation put on hold
A plan in by Palo Alto City Council to present Ford with a public proclamation in October was put on hold because of Ford's ongoing privacy and security concerns, including death threats.
Ford said in October that she had moved her family four times between mid-September and early October.
"Over the last few years we have seen women rise up together despite the setbacks that force important issues to remain in the shadows," Assemblywoman Monique Limon, D-Santa Barbara and vice chair of the Legislative Women's Caucus, said in a statement. "Dr. Ford is an example of the bravery required to do the right thing."