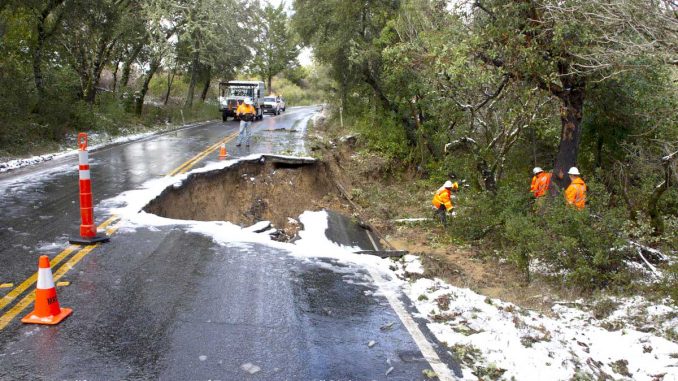 BY EMILY MIBACH
Daily Post Staff Writer
Caltrans officials are planning to partially reopen a 2-1/2 mile stretch of Skyline Boulevard by the end of the month, after a "surprise" sinkhole closed the road in both directions, a spokesman said Wednesday (Feb. 20).
Skyline Boulevard between Page Mill Road and Castanea Ridge, has been closed since Feb. 3, when a sinkhole opened up, dropping the road some six feet, said Caltrans spokesman Jeff Weiss.
Caltrans worked quickly to save the southbound lane to keep it from also crumbling, by putting in a retaining wall, said Weiss. However work still needs to be done in order to open up the southbound lane.
Weiss said the one lane, once it's reopened, will have a stoplight on either side so that northbound and southbound cars can take turns traveling along the single lane, Weiss said.
The sinkhole was caused by erosion that began deep underneath the road, causing the road to sink instead of slide down the side of the hill.
This sinkhole was a surprise to Caltans, Weiss said, noting that typically before a road crumbles, cracks begin to appear on the road. No such cracks appeared along this stretch of Skyline before the road collapsed, displaying just how far down the erosion was, Weiss said.
There are some other areas along the road that Caltrans monitors because of such cracks, Weiss said.
As far as fixing the road long term, Weiss said Caltrans isn't sure when both lanes will be in operation. This second part of construction will consist of building retaining walls to support both of the lanes and to rebuild the northbound lane.
Weiss said the unpredictable timeline is in part because Caltrans will have to first design exactly how to fix the road. Then it will likely have to special order much of the equipment required to repair the road. Caltrans will also have to study the hydrology and geology of the area to make sure a similar sinkhole does not happen again, Weiss said.
In the meantime, Caltrans is telling people to take Highways 9 or 84 and Page Mill Road instead of Skyline.