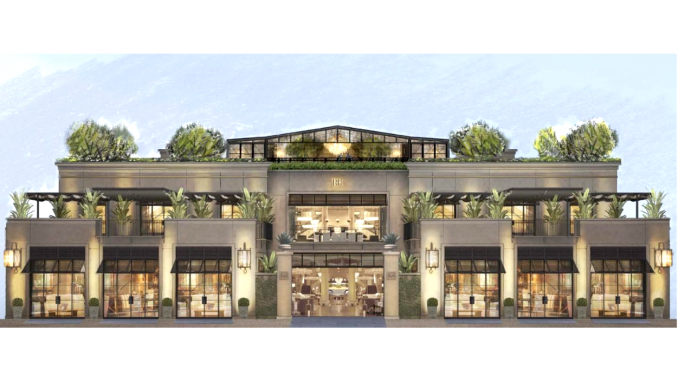 BY ALLISON LEVITSKY
Daily Post Staff Writer
The company that operates Stanford Shopping Center is seeking to tear down the Macy's Men's store to make room for a three-story Restoration Hardware store and a single-story Wilkes Bashford luxury goods shop.
Simon Malls spokeswoman Solana Tanabe said that Macy's Men's would be consolidated with the main Macy's store. Restoration Hardware is planning to open a location where Macy's Men's is now.
The 94,337-square-foot building that Simon Malls wants to tear down used to be an I. Magnin store, a San Francisco-based department store chain that operated there from the mall's opening in 1956 to 1995, when it was rebranded as a Macy's Men's.
It features a Stanford athletics-themed mural over a sweeping staircase.
Simon Malls is proposing to build a new three-story, 43,581-square-foot building for Restoration Hardware, two 3,506-square-foot buildings and a 28,000-square-foot building for Wilkes Bashford.
Restoration Hardware is designing its own building with a rooftop restaurant, open rooftop garden and second-floor terraces.
The Wilkes Bashford shop would be located on the south end of the parking lot between Sand Hill Road and Pistache Place, fronting El Camino Real.
The two smaller buildings would be directly across from Restoration Hardware and next to the building that houses LaBelle Day Spas, Jeffrey and Blue Bottle Coffee.
Simon Malls is seeking a permit to serve alcohol as part of the project plans.
Stanford University sold the shopping center to Simon Property Group in 2003 for $333 million. Simon Malls leases the underlying land from the university.