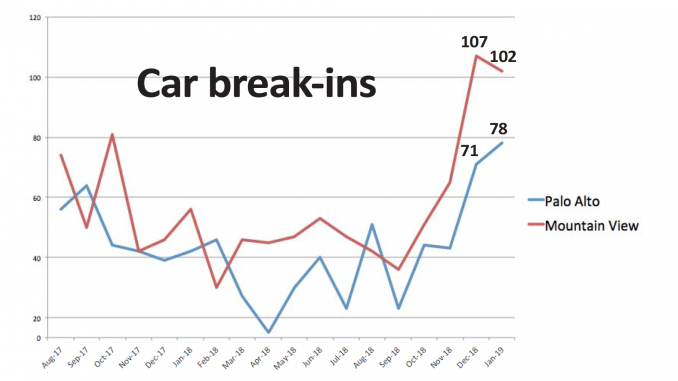 BY ALLISON LEVITSKY
Daily Post Staff Writer
Local car burglaries have spiked this winter, with more than 100 break-ins reported per month in Mountain View in December and January.
Palo Alto has seen up to 85% more car burglaries per month than during the same time last year, according to incident reports of car break-ins — not including thefts from vehicles that don't involve a break-in — posted to CrimeReports.com, a crime-data service both cities use.
The numbers went up in Palo Alto this year from 44 break-ins in October and 43 in November — on par with the numbers from 2017 — to 71 in December and 78 last month. During the same months last year, the city saw 39 and 42 car break-ins per month.
Mountain View police data posted to CrimeReports.com shows a similar winter increase over last year. In Mountain View, police took reports of 107 break-ins in December and 102 last month, up from 46 in December 2017 and 56 in January 2018.
"Auto burglaries, like many crimes, come in waves: sometimes they're up, sometimes they're down," Palo Alto police spokeswoman Janine de la Vega said. "We have stepped up patrols around typical auto burglary hot spots, and our detectives are working with regional partners to attempt to identify those responsible."
De la Vega said that most car burglary victims in Palo Alto are visiting from out of town and leaving their valuables in plain sight.
In November, the department relaunched its "Lock It or Lose It" public education campaign to remind people to lock their cars and not to leave valuables behind.
Hiding property in the trunk isn't safe either, de la Vega said, as some burglars will smash windows to gain access to the trunk release.
And de la Vega urged witnesses to call police if they see anyone lurking in parking lots and peering into car windows or randomly trying door handles.
Break-ins take seconds
"The crime of auto burglary takes only seconds to complete and makes very little noise, so unless a witness happens to see the actual burglary occur, they are often not detected until a victim returns to the car to find a broken window," de la Vega said.
Calling 911 in these cases can help police get a patrol car to the area quickly and, if nothing else, hopefully prevent a car break-in with police presence.
Mountain View police spokeswoman Katie Nelson pointed out that car burglaries are up across the Bay Area, not just on the mid-Peninsula.
Nelson said officers engage in "proactive policing efforts" every day and conducts neighborhood outreach and education campaigns to remind people of the risks of leaving valuables in the car.
"But it should be noted that police departments across the Bay Area are part of an even greater effort at looking at how these crimes are impacting communities," Nelson said. "As crimes of opportunity like auto burglaries continue to result in little to no consequences to the offender, it's a stark reality of how decriminalization of certain crimes can impact a region."