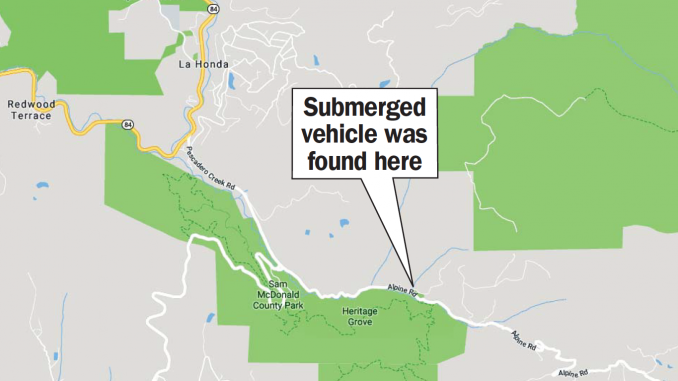 BY EMILY MIBACH
Daily Post Staff Writer
A 72-year-old La Honda man has  been identified as the person who was found in a submerged vehicle in a creek south sear of La Honda, near Alpine Road and Sam McDonald Park in unincorporated San Mateo County.
The San Mateo County Coroner's office said Terry Smith's body was found in the truck.
A passerby noticed that a vehicle was submerged in the creek on Sunday (Feb. 3) and called police, said CHP spokesman Art Montiel.
Officers arrived around 7:45 a.m., it is unknown how long the truck had been in the creek, Montiel said.
Montiel said officers were reaching out to people who knew Smith to find out if they had seen him recently.
It's unclear if Smith swerved to try to avoid something, if he was having a medical problem or anything else, Montiel said. CHP is waiting for the coroner's full autopsy report to be completed.
Smith, according to county records, lived some 2 miles away from where his vehicle was found.