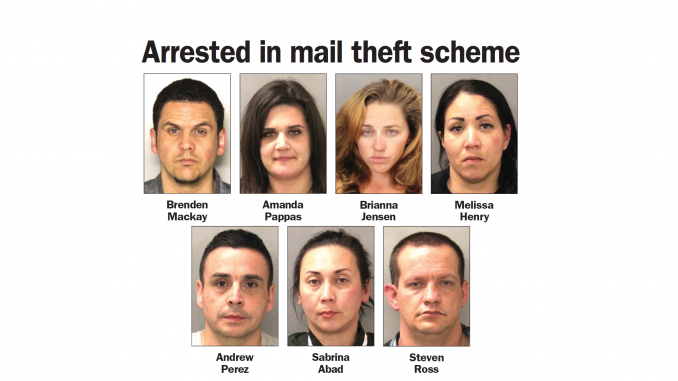 BY ALLISON LEVITSKY
Daily Post Staff Writer
Police have arrested seven South Bay residents who they say have been using counterfeit U.S. Postal Service master keys to steal mail from Mountain View apartment complexes since last summer, officials said today (Jan. 14).
The arrestees were identified as Brenden Mackay, 31, of Milpitas, Amanda Pappas, 30, of Cupertino and five San Jose residents: Brianna Jensen, 25, Melissa Henry and Andrew Perez, both 39, Sabrina Abad, 41 and Steven Ross, 34.
The burglaries took place on W. El Camino Real, San Antonio Road and Castro Street. Detectives in the department's Crime Suppression Unit started investigating the burglaries in August.
In each case, the burglar entered an apartment complex, often with empty duffel bags, and used the counterfeit key to open a mailbox bank and steal mail, police spokeswoman Katie Nelson said.
The burglaries were often committed in the early morning hours, and in some cases the thefts were caught on surveillance video.
Three of the suspects were arrested between late October and late December. Another four were arrested this month, Nelson said.
Santa Cruz County sheriff's deputies arrested the first suspect, Jensen, on Oct. 27 after she allegedly led them on a car chase.
When she was detained, police said she had a counterfeit USPS key and mail from the 800 block of W. El Camino Real, near Castro Street.
On Dec. 31, Henry and Perez were arrested by the Mountain View police after Henry allegedly tried to use a stolen credit card to buy gift cards at the CVS store at 2630 W. El Camino Real.
Police said the duo was in possession of counterfeit USPS keys, several counterfeit California driver's licenses, more than half a pound of methamphetamine and more than 100 pieces of stolen mail from the 500 block of San Antonio Road, near San Antonio Center.
Half a pound of meth in the Bay Area can cost between $1,750 and $5,000, depending on the purity, according to the Justice Department.
On Jan. 2, Mackay was arrested on the 2200 block of Showers Drive, off of San Antonio Circle, after he was allegedly seen wandering through an underground parking garage looking into cars.
Police said Mackay was found to be in possession of mail stolen from the 500 block of San Antonio Road along with a counterfeit California driver's license, a counterfeit USPS master key and a USPS mail lock.
The last three arrestees, Abad, Ross and Pappas, were arrested in Mountain View early on Saturday morning (Jan. 12).
Police spotted a gold Mercedes that they believed to be connected to a prior home burglary and mail theft driving into an apartment complex on the 1600 block of W. El Camino Real, near Rich Avenue.
Knowing that apartment complexes in the area had been targeted for mail thefts in the past, the officers stopped the car and questioned the driver, Abad.
Abad initially gave officers a fake name, police said. After searching her, police allegedly found shaved keys, counterfeit mail keys, stolen mail and stolen credit cards.
While police were talking to Abad, Ross repeatedly called her on her cellphone, police said.
Ross, who was wanted by police in connection with several mail thefts, walked out of a footpath nearby on Mariposa Avenue. While police were interviewing him, Pappas drove away slowly on El Camino Real in a black Chevrolet Tahoe.
Police nearby stopped Pappas and found that she had a felony warrant for her arrest on suspicion of vehicle theft.
Officers said they found meth, meth pipes and several items related to identity theft in the SUV.
"It cannot be overstated how much time and effort Mountain View detectives put into these cases," Sgt. Chris Goff said in a statement. "Their dedication to relentlessly pursuing these suspects is something I am very proud of."
U.S. Postal Inspectors have filed several charges against some of the arrestees, Nelson said. Police are now in the process of returning the stolen mail and credit cards to victims.
Jensen is being held without bail at the Santa Cruz County Jail. She is scheduled to appear in court tomorrow.
Mackay, Pappas and Ross are being held without bail at the Elmwood Correctional Facility in Milpitas. Ross and Pappas are scheduled to appear in court Wednesday (Jan. 16). Mackay is scheduled to appear in court on Jan. 31.
Abad is being held at Elmwood on $97,000 bail and is scheduled to appear in court this afternoon.