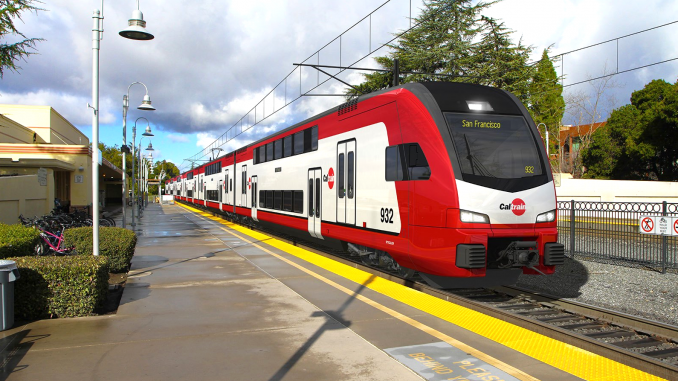 BY EMILY MIBACH
Daily Post Staff Writer
Caltrain is studying the idea of adding two more tracks from Palo Alto's California Avenue station to Mountain View, bringing the number of tracks in that area to four.
The two additional tracks would be "passing tracks," where trains would idle or travel more slowly while the pair of regular parallel tracks would be used by express trains or high-speed rail.
Caltrain is also looking at adding passing tracks in San Mateo and Redwood City, according to a Dec. 20 presentation to a group of local elected officials called the Caltrain Policy Maker Group.
The Dec. 20 presentation said that Caltrain is looking to increase the number of trains that run each hour during the busiest times of day to either 12 or 16.
If the Caltrain board goes forward with the 12-train option, that would also require a total of three miles of passing track to be added along the corridor.
Caltrain CEO Jim Hartnett told the Post in a Dec. 10 interview that it's up to the California High-Speed Rail Authority to study the need for passing tracks, and he said there may not be any passing tracks, based on HSR's environmental impact report.
Hartnett also said that it's possible that passing tracks would only be added at particular train stations rather than adding miles of parallel tracks along the Caltrain corridor.
Two options
Caltrain is working on a "business plan" that gives two options for the passing tracks.
One option calls for passing tracks in three spots — from Hayward Park to Hillsdale in San Mateo, another one about the length of the Redwood City station and a third at a "northern Santa Clara County station."
The other option proposes three longer sets of passing tracks — one from South San Francisco to Millbrae, the second from San Mateo to Redwood City, and the third from California Avenue in Palo Alto to Mountain View.
In 2009, large numbers of mid-Peninsula residents turned against high-speed rail, and one of their objections is that the proposal would result in four sets of tracks along the Caltrain cooridor, two for Caltrain and two for high-speed rail.
Remember the 'blended plan'?
In 2011, then-state Sen. Joe Simitian, Congresswoman Anna Eshoo and then-Assemblyman Rich Gordon introduced what they called the "blended plan" that called for Caltrain and high-speed rail to share the same two tracks. The proposal appeared to tamp down the opposition to the high-speed rail project locally.
Adding long passing tracks would appear to water down the committment to a blended system.
Palo Alto Councilman Adrian Fine pointed out yesterday that Caltrain's right of way (the width of its property) at Cal Ave. is only about 50 feet — not nearly enough for the estimated 90-100 feet that four tracks require.
Fine, who is on the Local Policy Maker Group, said that the Caltrain plan for the year 2040 assumes that all tracks are separated from the road — either by tunnels, trenches or bridges. It also assumes passengers will not have to step up to get on the train because the platform will be at the same height as the door, similar to BART.
Fine said those are big assumptions. In fact they're so big that Fine said he doesn't feel pressure to speed up the city's grade separation projects at East Meadow, Palo Alto Ave., Churchill and Charleston Road.
"I think we need to come to our own decisions," Fine said.
But he added that the city will have to work with Caltrain and the high-speed rail authority as partners. That means the city and the two rail agencies might have to make trade-offs in order for Palo Alto to get some money to pay for grade crossings.
"Does having four tracks go through Cal Ave. means HSR pays for it? I'm not sure. But this could be a big change, and we need to learn more about it," Fine said.
The passing track and service aspect of Caltrain's 2040 plan is expected to be voted on by the Caltrain Board in spring or summer. The final plan, which would also include a plan for funding Caltrain's expansion, would go to a vote of the Caltrain board late next year.