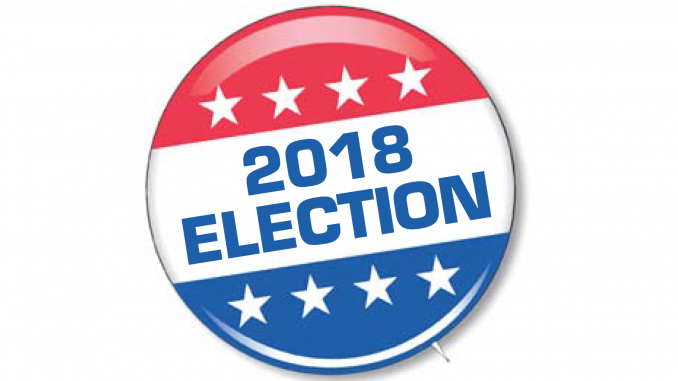 By the Daily Post staff
11:28 p.m. — Shounak Dharap have moved up to second place in the Palo Alto School Board race with 81% of precincts reporting. Incumbent Ken Dauber has remained in first place all evening. Earlier tonight, Stacey Ashlund was in second place. Dharap leads her by just two votes, however. There are six candidates running for two seats on the board.
Ken Dauber           5,896    27.98%
Shounak Dharap  4,522   21.46%
Stacey Ashlund     4,520  21.45%
Kathy Jordan        4,477   21.25%
Alex Scharf            1,493     7.09%
Christopher Boyd   162      0.77%
10:30 p.m. — While only 23 of 35 precincts have been counted, Mountain View Mayor Lenny Siegel is headed for defeat in a race for three council seats. He's fifth in a six candidate field. The other City Council incumbent, Pat Showalter, is in third.
Ellen Kamei      4,411    19.51%
Alison Hicks     3,994   17.66%
Pat Showalter   3,933   17.39%
Lucas Ramirez  3,906  17.27%
Lenny Siegel     3,612   15.97%
John Inks          2,756   12.19%
10:20 p.m. — The half-cent sales tax for SamTrans and transportation projects in San Mateo County known as Measure W is trailing. It needs 66.7% to pass but only has 64.8% as of 10:20 p.m. It's remarkable that Measure W is failing considering that proponents had raised $877,950 for their campaign. The three largest contributors — at $100,000 each — are Menlo Park-based Facebook, South San Francisco-based Genentech and San Mateo-based David D. Bohannon Organization. The David D. Bohannon Organization built and operates the Hillsdale Mall in San Mateo and owns the Hotel Nia in Menlo Park. Prior to the start of the campaign, the county and SamTrans spent $1 million on an outreach effort that had the look and feel of a political campaign on behalf of the measure.
9:35 p.m. — With 93% of precincts counted, Alison Cormack will win a seat on Palo Alto City Council, leading the next closest candidate by 1,185 votes. On the other hand, incumbent Cory Wolbach appears headed to defeat, falling 1,575 votes behind the third place finisher. Five candidates are running for three seats. In addition to Wolbach, the incumbents are Tom DuBois and Eric Filseth.
Alison Cormack    7,499   28.17%
Tom DuBois          6,314   23.72%
Eric Filseth           6,252   23.48%
Cory Wolbach      4,677    17.57%
Pat Boone             1,880     7.06%
The council is switching from nine seats to seven in this election. The pro-housing wing has had a 5-4 majority on council over the Residentialists. If these results hold, the split will be 4-3 in favor of the pro-housing side. The pro-housing side consists of Adrian Fine, Liz Kniss, Greg Tanaka and probably Alison Cormack. Cormack tried throughout the campaign to avoid being pigeon-holed into either camp, but the Residentialist group Palo Altans for Sensible Growth didn't endorse her. One thing is clear, Residentialists will have at least Tom DuBois, Eric Filseth and Lydia Kou on council going forward.
9:06 p.m. — While incumbent Ken Dauber remains well ahead in the Palo Alto school board race with 5,858 votes, the battle for second place has tightened with three candidates within a 50-vote range.
Ken Dauber           5,858    27.98%
Stacey Ashlund     4,498    21.48%
Shounak Dharap  4,482    21.41%
Kathy Jordan        4,448    21.25%
The top two will win seats on the school board. So far, 38 of 47 precincts have reported.
8:06 p.m. — In the first batch of results, Alison Cormack has pulled out to a healthy lead in the Palo Alto City Council race, leading by about 900 votes, with Tom Dubois in second and Eric Filseth one vote behind in third. Cory Wolbach is fourth. The top three will win.
In the Palo Alto school board race, the first batch of returns has incumbent Ken Dauber in first and challenger Stacey Ashlund in second. There are only two seats available on the school board. Kathy Jordan, a critic of the district, is in third, but only 13 votes behind, 3,629 to 3,616.
In San Mateo County, Measure W, the Samtrans sales tax, is losing with only 64.9% of the vote, below the 66.7% needed for passage.
In Menlo Park's City Council District 2 (the Willows), Drew Combs has taken an early 61.5%-to-38.5% lead against incumbent Kirsten Keith.
In Menlo Park District 4, another incumbent is in trouble. Eight-year councilman Peter Ohtaki only has 26.8% of the vote compared to 54.6% for Betsy Nash. In third is Ron Shepherd with 18.6%.
In the third Menlo Park council district on the ballot, No. 1 (Belle Haven), Cecilia Taylor, who ran unsuccessfully for council two years ago, is leading two incumbents with 67.7% of the vote so far.
In Redwood City, the top three are longtime incumbent Diane Howard (17.6%), Giselle Hale (16.9%) and Rick Hunter (16.6%). The top three will win seats in the seven-candidate race. Tenant advocate Diana Reddy was fourth, just 236 votes behind Hunter.
In Mountain View, the top three candidates will win seats on council, and at this point in the evening, Ellen Kamei is first, Alison Hicks is second and incumbent Pat Showalter is third. Surprisingly, Mayor Lenny Siegel is second to the last. In last is John Inks, who served for eight years and after a two-year break decided to run again. In the middle, in fourth, is Lucas Ramirez.
In Los Altos the buzz has been Measure C, a citizens initiative that would prohibit the city from selling public land without a vote of the people. At this point in the evening, and it's still early, it's failing 48.29% to 51.71%. Not surprisingly, two candidates who strongly opposed C, Neysa Fligor and incumbent John Mordo are leading the pack. The top two in the five-candidate field will win. In third is Anita Enander, a supporter of Measure C, who is behind Mordo by just 30 votes. He has 1,741 and she has 1,711. Fligor, who lost a bid for council two years ago by just 6 votes, is way ahead of everybody with 2,586 votes.
A SEIU-UHW-backed measure to limit healthcare costs is failing in a landslide. Measure F is losing 78.63% to 21.37%. On the other hand, Measure E, which would raise the hotel tax in Palo Alto from 14% to 15.5% to fund such things as a new police station is passing, 68.61% to 31.39%.
In the race to replace Nonette Hanko on the Midpeninsula Regional Open Space District, two termed-out Palo Alto City Council members are running. Karen Holman is walking away with the vote, 66.65%, compared to 33.35% for Greg Scharff.
In Belmont's race for three seats on council, appointed incumbent Julia Mates leads the field with 29.0% followed by incumbent Warren Lieberman (26.2%) and Charles Stone (25.7%). The fourth candidate, Deniz Bolbol, who was the subject of a mailer attacking her for lawsuits she filed as an animal rights activist, was in fourth with 19.1% of the vote.
To see all the results go to: