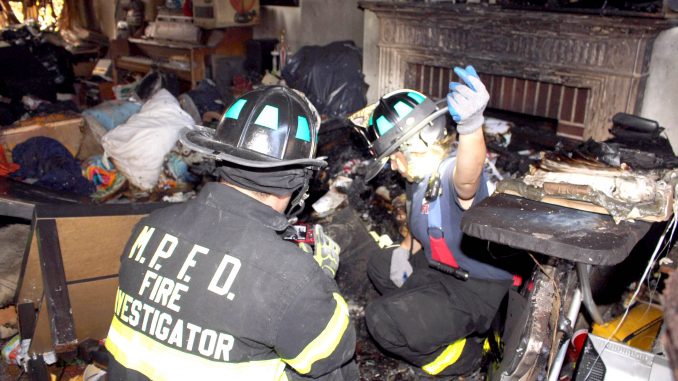 By the Daily Post staff
Firefighters in Menlo Park's Belle Haven neighborhood were quick to respond to a house fire just two doors away from the fire station on Saturday (Oct. 27).
Nobody was home during the fire at 1447 Chilco St., which was reported at 12:22 p.m. Saturday. The fire started near a combination microwave-refrigerator and coffee maker by the front door, according to Fire Chief Harold Schapelhouman.
Between the house at 1447 Chilco and the fire station is a house at 1457 Chilco, which the Menlo Park Fire Protection District wants to buy in order to expand the station. The 1457 Chilco house is on the market, and the fire board met in closed session last Monday to discuss the property.
In March 2017, the fire district was considering using eminent domain to seize the homes at 1457 Chilco and at 351 and 321 Terminal Ave., right around the corner, in order to expand the fire station. But a strong backlash stopped the plan in its tracks.
On Saturday, firefighters at Station 77 were alerted to the fire by somebody frantically ringing their door bell and banging on the front door, Schapelhouman said.
Firefighters arrived two minutes later and saw smoke and fire coming from the single story home. The crew forced their way into the home through the front door and immediately located the fire, Schapelhouman said. They were able to quickly extinguish the blaze.
The two occupants of the house weren't home. Later, the American Red Cross assisted them in finding shelter.