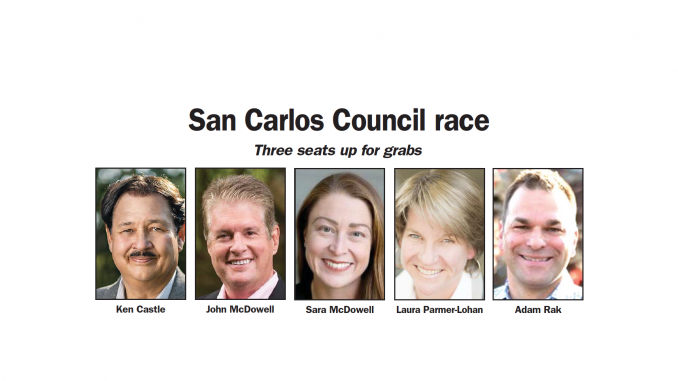 BY EMILY MIBACH
Daily Post Staff Writer
The next San Carlos City Council — which will have three new members come November since no incumbents are running again — will have to decide whether to regulate or ban gun stores in the city.
The Post asked the five candidates how they feel about the existing moratorium on new gun stores and whether it ought to be extended.
Adam Rak, a former San Carlos School District trustee, said he supports the moratorium to give the city time to write regulations that would "ensure public safety."
Last Nov. 13, the council voted to ban gun stores following a citywide debate on whether or not the city ought to allow for a Turner's Outdoorsman, a chain store with mostly Southern California locations, to open at 1123 Industrial Road. City accused of fraud Following the ban, the city was hit with a $295,305 claim from Turner's, alleging that city officials committed fraud by lying to store executives about their willingness to allow the gun retailer in the city.
Rak said that the way the city handled Turner's permit was concerning and needs to be reviewed further.
John McDowell, who was on the San Mateo County Civil Grand Jury from 2017 to 2018, said that if elected he will wait until he hears all of the facts at the end of the study period before making up his mind.
"A city that seriously considers the concerns of all of its residents cannot be seen to have a phony process that is only in place to put a fig leaf over a predetermined outcome," McDowell said in an email.
Laura Parmer-Lohan, who was on the Single Family House Advisory Committee, spoke in favor of the gun store moratorium when it was debated by council, and would not support repealing the moratorium.
However, she said she believes through listening to residents, the council will be able to come up with a resolution that's "best for the city."
Sara McDowell, a city economic advisory commission member, also said it's important to listen to residents, weigh the available options and make a decision.
However, she said she'd support a discussion about changing the city's zoning on gun stores from "permitted" (where before the moratorium anyone could open one up anywhere) to "conditional," which she says would open up the city's review process to public input and feedback.
Ken Castle, who organized the Neighborhood Watch program in the White Oaks neighborhood, said that since it's possible the city could get sued over the moratorium, he does not want to comment on the specifics.
But Castle did say that since he works for a security system company, which has clients that include schools and transit agencies, he is "constantly reminded of the concerns for personal safety."