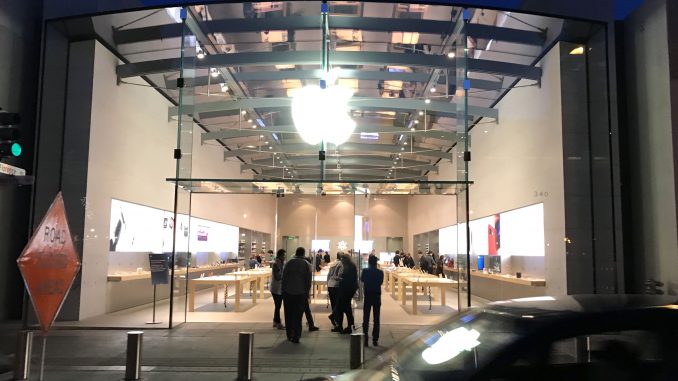 By the Daily Post staff
The downtown Palo Alto Apple Store has been hit twice by thieves in the past 24 hours.
Yesterday (Sept. 22) at 7:05 p.m., eight men between the ages of 16 and 25 burst into the store at 340 University Ave. and grabbed $57,000 in merchandise, according to Palo Alto police Sgt. Craig Lee.
Eleven hours later, at 5:52 a.m. today (Sept. 23), a passer-by on University Avenue alerted police there was a gaping hole in the plate-glass doors in front of the store, Lee said. Somebody had smashed the door overnight and took a yet-to-be-determined amount of merchandise. Police are waiting for an inventory of stolen items from Apple.
These weren't the first heists from the downtown Apple Store. On Sept. 1, a four-member crew grabbed $40,000 in merchandise while bystanders watched or shot video of the scene with their iPhones. Apple Stores elsewhere in the Bay Area have been targeted in similar heists.