By the Daily Post staff
The California Highway Patrol reports that 66-year-old Wamaitha Kaboga-Miller of Palo Alto, was found deceased in her car, which was located in Newark near the east end of the Dumbarton Bridge on Sunday (Sept. 23) afternoon.
CHP officers were responding to a traffic accident on Highway 84, east of Thornton Avenue, when they noticed Kaboga-Miller's silver Mercedes Benz CLK 430 buried under heavy brush and tree branches. It was about 25 feet west of the incident they were investigating.
Kaboga-Miller's car crashed near the first intersection to the east of the Dumbarton Bridge.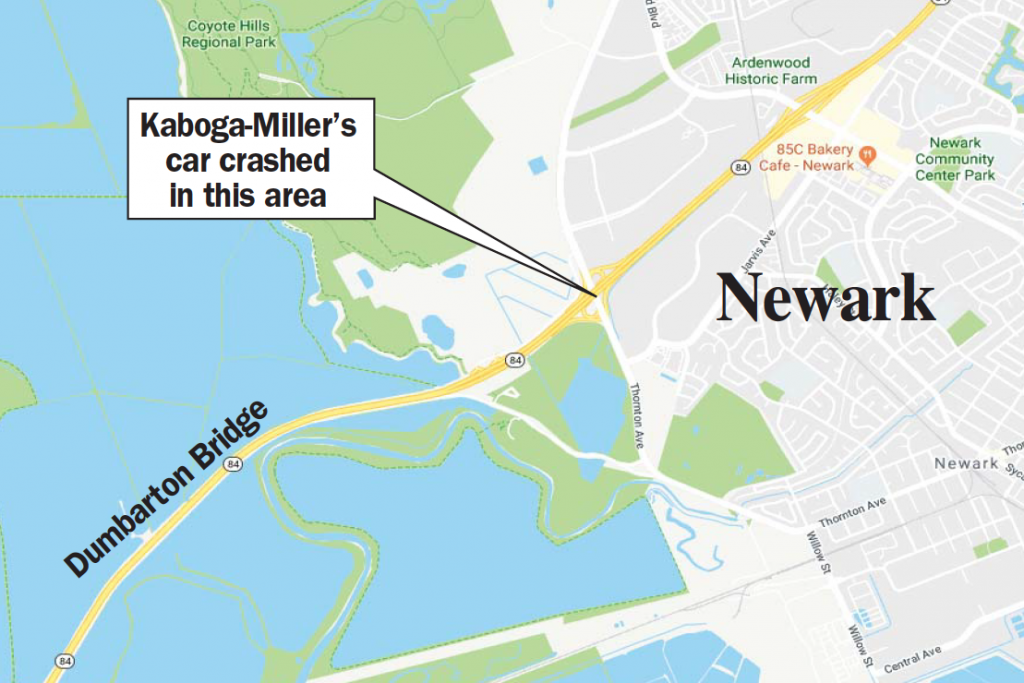 Kaboga-Miller disappeared Aug. 17 after she bought cigarettes at the Country Time Market at 2200 University Ave. in East Palo Alto.
A massive search was held on Aug. 25 in East Palo Alto for Kaboga-Miller without success.
"The Palo Alto Police Department has been working very closely with Ms. Kaboga-Miller's family and made the notification to her family," Palo Alto police said in a statement. "This is a sad day and not the outcome any of us ever wished for. Our hearts and prayers go out to Ms. Kaboga-Miller's family."
How Kaboga-Miller ended up in Newark isn't immediately known. That aspect of the case is still under investigation.
Previously, authorities said her car's license plate had not been photographed going through the Dumbarton Bridge toll plaza, which led police and her family to focus the search in the Palo Alto-East Palo Alto area. Today, however, the Post learned from the CHP that the bridge plaza only photographs plates of cars traveling westbound, so her vehicle's plate wouldn't have been recorded.
Kaboga-Miller was a South Bay resident since she immigrated to the United States from Kenya on a student visa. She attended San Jose State and bought her first home in Mountain View after graduating. Upon marrying her husband, Kemp, they lived in Menlo Park for a few years before buying their home in Palo Alto's Crescent Park neighborhood about 30 years ago, said her son Clovis Kaboga-Miller.
She worked for tech companies such as Omnicell, Broadcom and Apple. But she had a place in her heart for helping out people who don't have enough to eat, said her sons Njoroge and Clovis.
As a result, she was a regular volunteer at the Food Closet, which Clovis Kaboga-Miller said stems from her childhood growing up poor in Kenya.