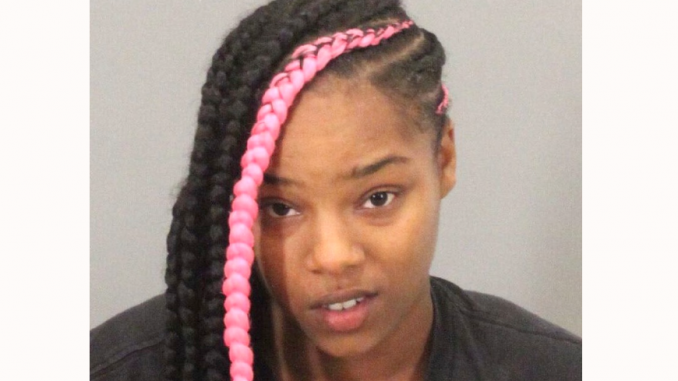 BY ALLISON LEVITSKY
Daily Post Staff Writer
Palo Alto police haven't found the car burglar for whom they called in police dogs and a CHP plane to scour San Francisquito Creek, but they say they've arrested his alleged getaway driver.
Nakiyah Shereese Polk, 20, of Vallejo, was booked into the Santa Clara County Jail on Thursday night on suspicion of car burglary and conspiracy, both felonies.
The man she was with, who looked to be in his 20s, is still on the run after a two-hour search on foot and with a CHP plane near Alma Street and San Francisquito Creek on Thursday night.
If arrested, he'll face the same charges with an added misdemeanor charge of resisting arrest, police said.
Around 8:27 p.m. Thursday, police patrolling the Stanford Shopping Center saw a white 2002 BMW M5 cruising the eastern parking lot, seeming to case cars to burglarize.
Police watched as the man in the front passenger seat got out and peered into parked cars before smashing open the front passenger window of a parked, locked black 2017 Volvo XC60.
He snatched a backpack that was on the front seat, police said.
Officers moved in to arrest him, but the burglar dropped the backpack and ran across El Camino Real into San Francisquito Creek. He disappeared near the railroad trestle that crosses over the creek near the historic El Palo Alto tree.
Police chased after him while other officers detained the BMW, where Polk was sitting. They surrounded the area and called in canine teams from the Menlo Park and Mountain View police departments.
At 8:45 p.m., a CHP plane was also called in from Napa to help search. The aircraft refueled in Oakland and arrived in Palo Alto at 10:20 p.m. to begin searching for the burglar.
The pilot started scanning the creek from El Camino Real east toward Highway 101.
At 8:59 p.m., near Alma Street and East Creek Drive in Menlo Park, police arrested a 30-year-old man who is on parole for bank robbery, but released him after realizing he wasn't connected to the car burglary.
"Our detention revealed he's not connected to the auto burg, and he is not a suspect. I can't get into the specifics, but he's not our guy," police Capt. Zach Perron told the Post in an email yesterday.
Police called off the search at 10:44 p.m. Officers returned the stolen backpack, which contained items worth around $300, to its owner.
The Volvo break-in seems to have been the duo's first burglary of the evening, as there weren't any other car burglaries in Palo Alto yesterday. Police haven't connected the two to any prior burglaries in town.
Detectives are still working to identify and arrest the at-large burglar.
He's described as a black man with a shaved head standing about 6 foot 3 inches tall with a skinny build, and was wearing a black or gray hooded sweatshirt and blue jeans.
Anyone with information about the burglary has been asked to call police dispatch at (650) 329-2413 or email anonymous tips to paloalto@tipnow.org. Tips can also be sent via text message or voicemail to (650) 383-8984.