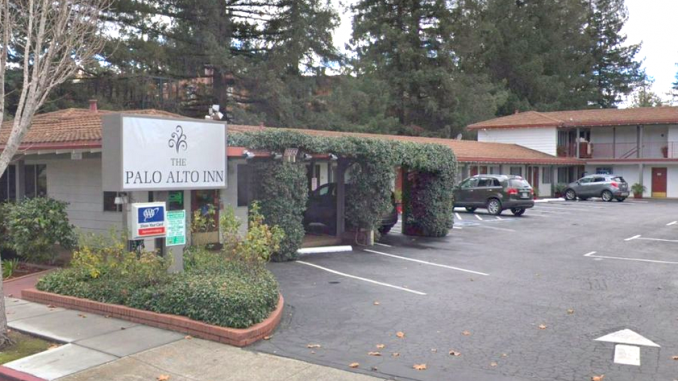 BY ALLISON LEVITSKY
Daily Post Staff Writer
The Palo Alto Inn has apologized and issued a refund to a makeup artist who stirred up online furor against the motel after finding maggots in her room, but a spokeswoman for the motel disparaged the woman as "high-maintenance" and said she's just trying to get famous.
Issabella Shields, a marketing consultant who is working for the Palo Alto Inn, said the 20-room motel had issued a full refund and apologized to Hayley Johnsen on Tuesday (July 10). On Monday night (July 9), Johnsen and her boyfriend Justin Wolfe demanded a refund, called the Palo Alto police and left the hotel in a huff after finding the "hundreds" of maggots crawling out of the bathroom wall.
Johnsen also tweeted a play-by-play account of the incident to her 14,000 Twitter followers, who reposted it more than 1,500 times.
The Daily Dot reported that Johnsen's followers then began posting negative reviews to the motel's Yelp and Google Reviews pages en masse, leading Yelp and Google to enter "clean- up" modes to remove and prevent reviews from users who were posting about Johnsen's experience with the business, not their own.
'Sincerest apology'
An email that Shields forwarded to the Post showed that the apology was delivered on Wednesday morning (July 11) and noted that the refund had been issued. Johnsen tweeted that the refund appeared in Wolfe's account yesterday morning (July 13).
"Thank you for sharing your experience with us. We are shocked to hear about your stay and hope you will accept our sincerest apology," the email reads. "We are a family-owned, local hotel and have recently renovated all rooms to offer an excellent experience to all our guests."
The email states that the motel employees usually "(do) a wonderful job" checking and preparing guest rooms and that they take cleanliness "extremely seriously," saying that the maggot infestation was "not at all acceptable."
"When you brought this to our staff's attention the night of your stay, our staff offered you another room to ensure you would have a good rest of stay," the email states. "However, our night staff does not have authority to issue refunds which is why they had to wait until morning to share the experience with management and go through the appropriate channels to resolve the issue appropriately."
The email states that the motel has a "professional team" looking into the infested room to ensure the motel's high standards of cleanliness. Shields said the motel has an exterminator visit weekly, which she said was standard in the business.
'High-maintenance'
Shields said the employee had thought Johnsen was making a "bogus claim" when she told him there were maggots in her room because of the motel's regular pest control and because she had "showed up late and she was high-maintenance."
The employees "just couldn't believe it" because of their regular exterminator visits, Shields said.
When an employee checked out Johnsen's room, he denied seeing any maggots, according to Johnsen. But Shields said that claim was a "he-said, she-said thing."
A manager on duty Thursday, who declined to give his name to the Post, also denied that there were any maggots — even though the motel had already apologized to Johnsen.
Shields said the front desk had been overwhelmed with angry calls, including some claiming to be from national media outlets like CNN and CNBC.
"I can't speak to why he denied it. I assume it's because he needed to get off the phone and deal with actual guests who were there, and it was hard to tell who was actual media," Shields told the Post. "(On Thursday, July 12) the front desk didn't tell the management that this was happening. They were just trying to continue on business as usual." Shields said that since Thursday, the calls from Johnsen's "followers, or her cult, or whoever these people are" had taken on racist overtones.
"People are saying 'go back to where you came from,'" Shields said. "They're just calling to scream obscenities."
Shields emphasized that the motel has been family-run for 40 years and has overwhelmingly positive reviews, including about its cleanliness.
"It just feels like they're using this as a way to get more publicity. This woman is, like, power-hungry or wants to get famous. It's totally unacceptable. It's just insane," Shields said. "I don't know what Hayley's doing and, basically, we want it to stop."
Johnsen didn't return a request for comment.