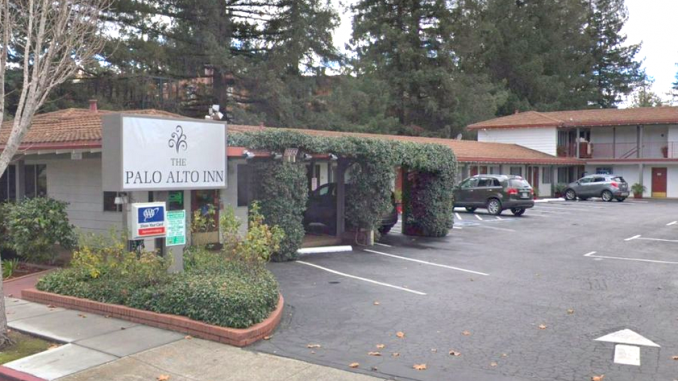 BY ALLISON LEVITSKY
Daily Post Staff Writer
A maggot-infested room at the Palo Alto Inn has led a makeup artist with a large social media following to lambaste the motel online, leading dozens of her fans to swarm the business' Yelp profile with negative reviews, dropping its overall rating from four stars to two.
Hayley Johnsen, a San Francisco native with 71,100 Instagram followers and 14,000 on Twitter, said she and her boyfriend Justin Wolfe paid $300 to stay at the two-star motel on Monday night (July 9).
In a string of tweets that Johnsen's followers at @hayleyyjay have reposted more than 1,500 times since Monday, she said she had just settled in for a bath when she noticed the maggots coming out of the wall, on the hardwood floor and toward the bed.
"We tell them the room is completely infested AND WHAT THE F**K. It's almost midnight. I'm beside myself. Literally," Johnsen wrote. "The manager at the desk is rude and says well I guess we can come look at it. YOU GUESS?"
Johnsen said a "disgruntled older man" checked out the room and denied seeing any maggots coming out of the wall.
"He says OK well we don't offer refunds. We can set you up in another room. First of all we just paid $300 for this room. Second of all, your establishment is disgusting," Johnsen wrote. "We say absolutely not. It's almost midnight. This is a health hazard. We want our money back now. He said he could maybe ask his manager tomorrow if they can 'work something out.'"
Motel denies there were maggots
A manager who declined to give his name yesterday told the Post he wasn't at the motel Monday night, but that he had a maintenance worker address the complaint right away. Still, the manager denied that there were any maggots.
The motel's owner didn't return a request for comment. Neither did Johnsen.
On Twitter, Johnsen said she called police to report the maggots.
"I didn't know who else the f**k to call — Batman?! I call the cops. Even dispatch was DISGUSTED," Johnsen wrote. "They send someone out. The cop takes four seconds to look at our room and says no you can't stay here."
Palo Alto police Sgt. Craig Lee confirmed that Johnsen called police around 11:30 p.m. Monday and that while he wasn't there, the story sounds "pretty gross."
"Miss Johnsen did call the police department saying that she woke up with maggots crawling on her, and she said that the hotel would not refund her money, so she called police for whatever reason," Lee told the Post. "We did go out and respond and saw the maggots, but it's not a police matter. We didn't take a report, and that was it."
Johnsen wrote that she hadn't received a refund and booked another room after midnight on Tuesday morning. She added that the manager "tried to insinuate that we (BROUGHT) THE MAGGOTS WITH US."
Negative Yelp reviews
Johnsen then posted the motel's contact information and urged her followers to call the front desk, complain and leave voicemails, to share her post on Twitter and to write negative Yelp reviews.
After her fans started to leave reviews on Yelp and Google Reviews en masse, reviews started to disappear off of Google and the motel's Yelp profile became temporarily suspended for "cleanup," the website Daily Dot reported.
"THEY'RE DELETING ALL THE GOOGLE REVIEWS. IT WENT FROM 129 TO 100 REVIEWS IN AN HOUR!" Johnsen wrote on Tuesday afternoon. "Y'all they blocked me and Justin's phone numbers from calling the hotel. I am SCREAM."
The Yelp page read yesterday that the business "recently made waves in the news, which often means that people come to this page to post their views on the news."
"While we don't take a stand one way or the other when it comes to these news events, we do work to remove both positive and negative posts that appear to be motivated more by the news coverage itself than the reviewer's personal consumer experience with the business," the Yelp post states.
The inn's Google review appears to have been cleaned up as well. It now has 98 reviews with an average rating of 3.6 out of 5 stars.