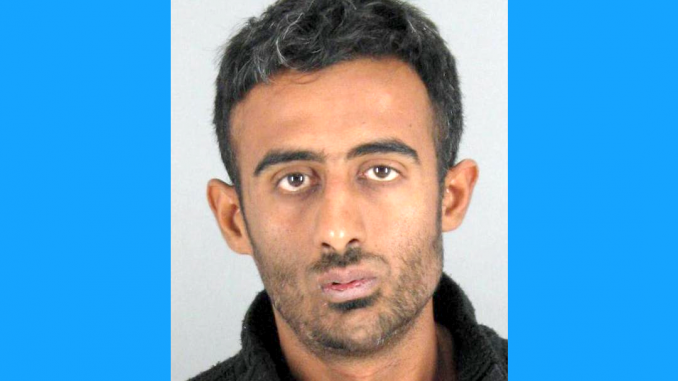 BY EMILY MIBACH
Daily Post Staff Writer
Prosecutors yesterday (July 2) dropped charges against a Hillsborough CEO who claimed that a mix-up in prescription drugs caused him to touch his son inappropriately and that the way he was touching the boy was a legitimate martial arts maneuver.
Judge Stephanie Garratt went along with the prosecution's recommendation and cleared Zain Jaffer, 30, on charges of sexual abuse and battery.
Jaffer, the founder and the former CEO of the San Francisco video advertising company Vungle, was arrested on Oct. 15 after his father called police and told them that Jaffer was in the backyard of their home on the 1000 block of Lancaster Road in Hillsborough, abusing his 3-year-old son.
Police found Jaffer in the backyard completely naked, straddling his son, who was crying, according to District Attorney Steve Wagstaffe.
The DA said that when police arrived, they saw him touching the child inappropriately. Police commanded Jaffer to stop assaulting his child, but he didn't, and instead began choking the child with his legs around the child's neck, according to Wagstaffe.
After ignoring further commands from officers, they zapped Jaffer with a Taser, Wagstaffe said. However, Jaffer continued to resist arrest and attempted to hit and spit on an officer, according to the DA.
Defense met with prosecutors
Following his arrest, Jaffer's attorneys went to the district attorney's office to make a presentation about why they believed their client was innocent. After that presentation, prosecutors began to check the information they were given by Jaffer's lawyers.
The charges were dropped for two reasons.
First, Jaffer was on two medications — one prescribed by a therapist and the other by a physician — that caused him to act violently, according to Wagstaffe. The DA's office verified this claim by talking to medical professionals, Wagstaffe said.
Secondly, Jaffer's lawyers argued that the particular way their client was touching his child was a jiu-jitsu move, a form of martial arts that the entire Jaffer family practices, Wagstaffe said. After checking with multiple experts, the way Jaffer was holding his son was determined to be a martial arts move.
Wagstaffe said he's glad that Jaffer's lawyers "trusted us enough" to lay out their argument before the case progressed and avoided the possibility that Jaffer would be wrongfully convicted.
'Terrible experience'
Following yesterday's hearing in front of Judge Garratt, Jaffer released a statement saying:
"Being wrongfully accused of these crimes has been a terrible experience, which has had a deep and lasting impact on my family and the employees of my business. Those closest to me knew I was innocent and were confident that all of the charges against me would eventually be dismissed.
"I want to thank the San Mateo County District Attorney's Office for carefully reviewing and considering all of the information and evidence in this case and dropping all the charges. I am also incredibly grateful for the continued and unwavering support of my wife and family, and look forward to spending some quality time with them."