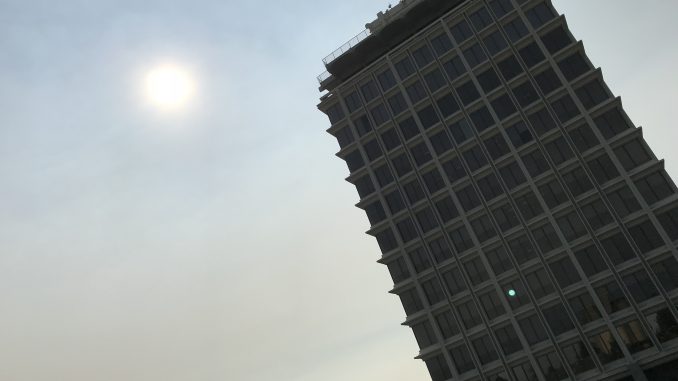 From staff and wire reports
The smoke that's filtering the sunlight today (July 2) is coming from a wildfire in Yolo County, about 75 miles north of the Bay Area, which grew today by 10,000 acres to a total of 44,500 acres, surpassing the size of San Francisco.
The Bay Area Air Quality Management District said the smoke advisory that was issued on Sunday remains in effect today.
A light haze was visible in Palo Alto this afternoon. Smoke filtered the sunlight, casting a yellow pall throughout the area.
The air district says people in areas with heavy smoke should seek shelter in buildings with filtered air or to move outside the impacted area until smoke levels go down.
Conditions could improve Tuesday and Wednesday as winds are forecast to shift from a northerly to westerly direction that would push the smoke out of the Bay Area, according to the air district.
People can check real-time air quality readings at https://go.usa.gov/xnxJE.