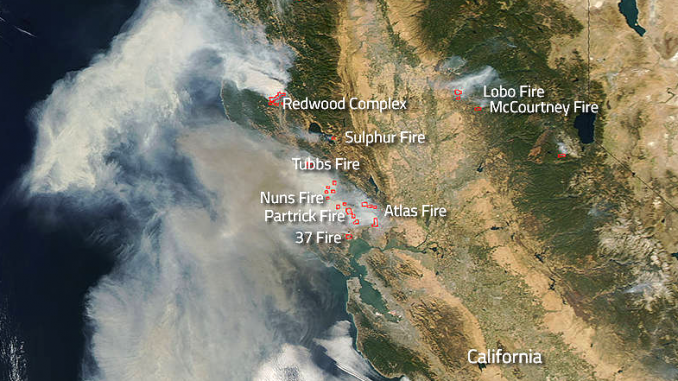 Above, NASA satellite image showing the massive smoke plumes from the wildfires burning in Wine Country.
By the Daily Post and Bay City News
The North Bay wildfires are causing "unprecedented levels" of air pollution throughout the Bay Area, air quality officials said yesterday (Oct. 10).
"Honestly, we are recording some of the worst air quality ever recorded in any part of the Bay Area," said Tom Flannigan, spokesman for the Bay Area Air Quality Management District.
The winds that caused the fire in Napa and Sonoma counties to spread so quickly on Sunday night died down yesterday. That's good for firefighters but it also means the smoke continues to linger in the air.
The district issued a smoke advisory yesterday (Oct. 10) because of the wildfires, which have burned tens of thousands of acres, and later in the day issued a health advisory and Spare the Air alert.
Air district officials recommend that residents impacted by heavy smoke, particularly in Napa and Sonoma counties, take shelter in buildings with filtered air or move to areas less impacted by the pollution.
"Due to active wildfires and changing wind patterns, air quality could be impacted for many days to come," air district officials said in a statement.
They encourage residents who see or smell smoke in the area to avoid outdoor activity or exercise. Parents and school administrators should check air quality readings before allowing children to practice outdoor sports, according to the air district.
People who are indoors should set their air conditioning to re-circulate to avoid bringing outside air into buildings. Air district officials also asked that people avoid any activities like wood burning, lawn mowing, leaf blowing, driving or barbecuing that can add to the air pollution.
Children, the elderly and people with respiratory conditions are the most sensitive to the pollution and should take extra precautions, according to the air district.