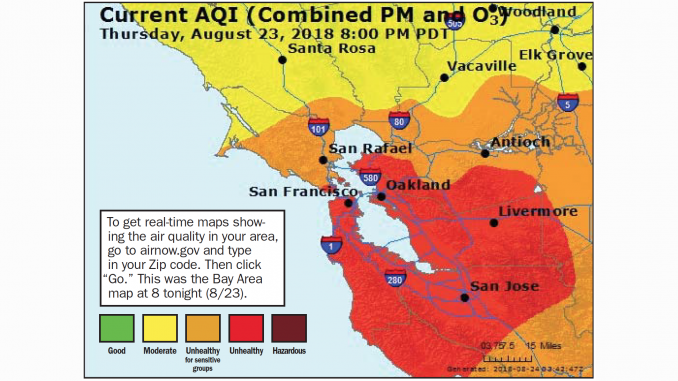 From staff and wire reports
The smoke you've been seeing and smelling will continue to linger through Sunday, according to the Bay Area Air Quality Management District.
The smoke is from a series of wildfires burning on the West Coast.
As of 8 tonight (Aug. 23), the air quality on the Peninsula was rated as "unhealthy."
Residents are encouraged to stay inside with the windows closed and set air conditioners to recirculate until the conditions subside.
Forecasters had expected the conditions to subside, but that forecast changed because the marine layer, a shallow cool layer of air near the ground, has been deeper than anticipated. Smoky air at higher altitudes expanded to the ground level due to that marine layer and strong onshore winds, according to district officials.
These conditions particularly impact children, the elderly and anyone with respiratory problems, so anyone in those groups should take precautions to avoid exposure.
Today (8/23) and tomorrow (8/24) a Spare the Air days.
In general, smoky conditions can cause irritation of the eyes, throat and sinuses. Coughing and wheezing can also occur, especially for anyone with asthma or emphysema.