BY EMILY MIBACH
Daily Post Staff Writer
Nancy Magee has taken the lead over Gary Waddell in the race for San Mateo County superintendent of education after she trailed him since Election Day.
Magee, associate superintendent of student services in the county office, was ahead of Wadell, the deputy superintendent of instruction, by 428 votes, according to figures released Friday by the County Elections Office, which is continuing to count ballots from the June 5 primary. Magee and Waddell, who work in the same county education office in Redwood Shores, are vying to replace Superintendent Anne Campbell, who is retiring.
Of the 120,275 ballots counted so far, 46,242 (50.2%) are for Magee while 45,814 (49.8) are for Waddell.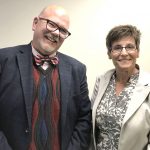 On Election Night, Waddell led Magee by 188 votes. On June 7, he was ahead by 501 votes. But Waddell led by only 75 votes on Tuesday (June 12).
The county still needs to count 46,000 ballots, according to Assistant Chief Elections Officer Jim Irizarry. The final numbers are scheduled to be released at 4:30 p.m. Wednesday (June 20), meaning ballot counters are working over the weekend to meet the deadline, Irizarry said.
Only 10,000 of the estimated 155,000 ballots submitted in the election were cast at the county's voting booths on June 5, Irizarry said. The rest were mail ballots, with about 41,000 arriving at the office in the three days after the June 5 primary.
The county is looking at close to a 45% voter turnout, Irizarry said. This exceeds the 28% voter turnout in the June 2014 election.
Here's a link to an earlier story profiling Magee and Waddell.