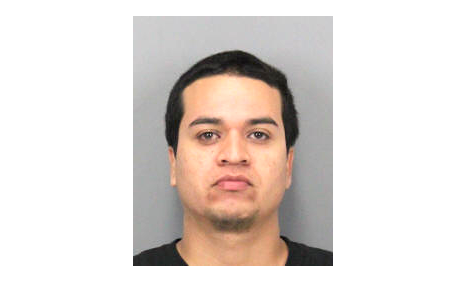 BY ALLISON LEVITSKY
Daily Post Staff Writer
A man facing life in prison for sexually assaulting a teenage jogger near Stanford Research Park admitted to police that he wrapped the girl's head in duct tape before the assault, harrowing court documents reveal.
After his arrest in April, Eduardo Chavarria-Diaz, 29, a Lyft driver who was living in Richmond, told police through a Spanish translator that he had met the high school-aged girl on the jogging trail at Arastradero and Deer Creek roads and had a consensual sexual encounter off the path.
The teen told police that on the afternoon of March 28, her assailant had held a gun to her head, thrown her over his shoulder and carried her off the path, where he used duct tape to tie her hands and cover her head, leaving only a small hole where she could see.
His sunglasses, duct tape, and zip ties were left at the scene. Police later seized a BB gun from Chavarria-Diaz's apartment. Saliva was collected from the teen's body and semen from her underwear, which Chavarria-Diaz told police had transferred there from his hand.
The teen told police that he had digitally penetrated, but not raped her. She said she thought he only held off from raping her after she started to repeat that she had an infection and needed her medication.
Officer interviews suspect
Palo Alto police Officer Joel Hornung asked Chavarria-Diaz why he had duct-taped the girl's hands together, explaining that police had found the tape at the scene. Chavarria-Diaz denied the allegation, claiming he had stopped at the trail to go to the bathroom and had the tape with him to use as toilet paper.
"I told Chavarria Diaz that I know he cut the victim (loose) from the duct tape, which tells me he is a good person and knew it was the right thing to do," Hornung wrote in court documents. "I explained to him if he was lying to me, however, it makes me wonder if he had plans to do something worse to her."
Chavarria-Diaz eventually admitted he had wrapped the teen's head in duct tape, Hornung wrote.
Apology letter
Hornung then gave Chavarria-Diaz paper and asked him to write an apology letter. He wrote: "Hello My name is Eduardo Diaz Im 29 year old and I want to say sorry for that day. Im never never want this sorry and I love my son and my life. Relly Im relly sorry. I want in my life a house work hart for. My son the name of my son is (redacted). He is 2 year old. I love him and I want to repair all sorry sorry. Sorry for scare you I'm never want to scare you I promise never to do that again with another peplo (sic). Sorry for using the (BB) gun."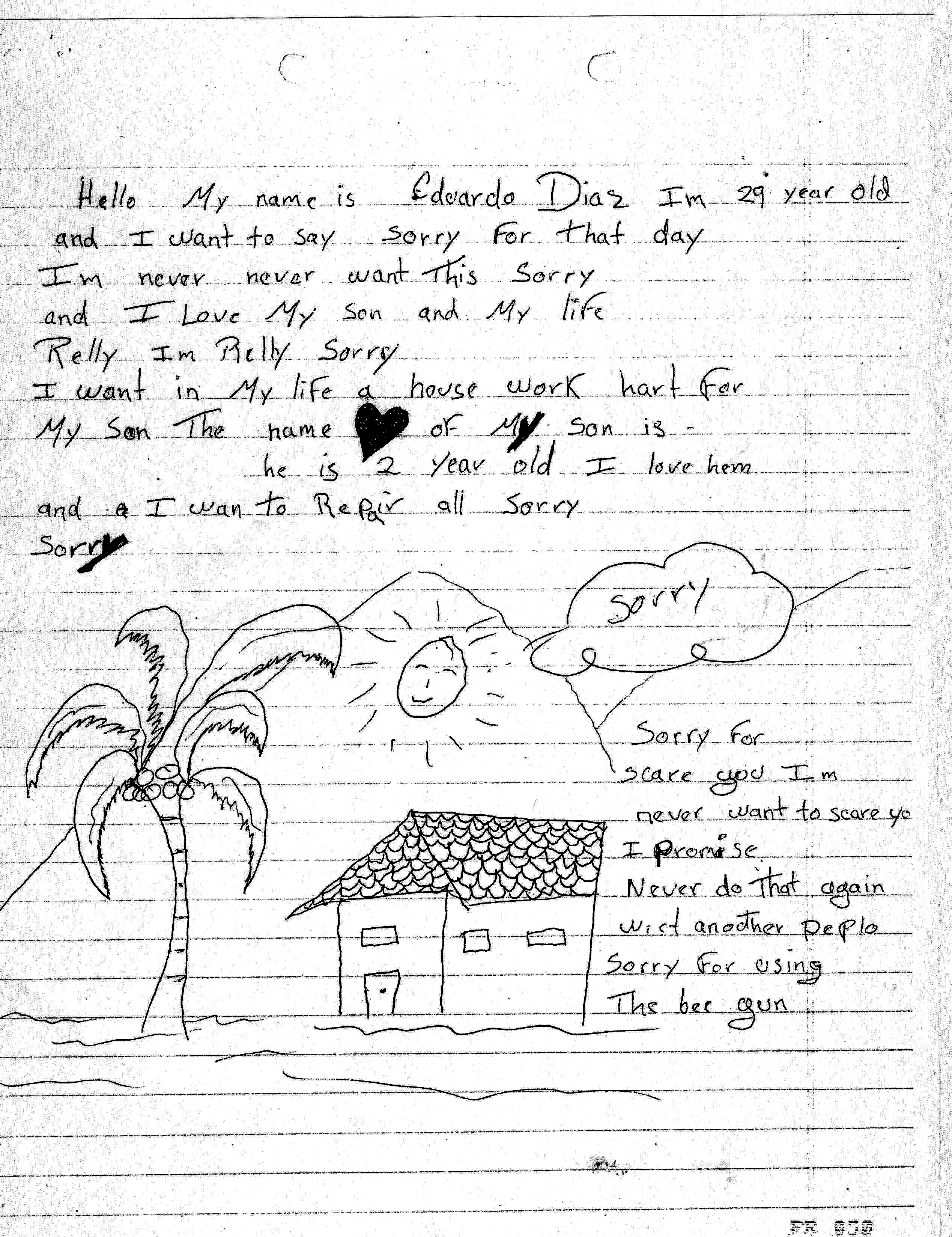 Chavarria-Diaz also told Hornung that he had recently separated from his wife.
Among the evidence seized from Chavarria-Diaz's apartment were a fake Salvadoran passport and fake U.S. residency card along with the BB gun he's believed to have used in the attack.
After the attack, the teen said her assailant pulled out the gun again, pointed it at her head, pulled back the hammer and told her he was going to leave.
Victim clawed at tape on face
If she left before five minutes had passed, he would shoot her, he said. He then used what the victim thought was a key to cut her wrists free.
"The victim stated the suspect left but a part of her believed he would be returning for her," Hornung wrote. "She eventually worked up the courage to begin clawing at the duct tape wrapped around her face."
With the tape hanging around her neck, she put her clothes back on and raced back to the trail, where she told a woman walking on the trail that she had been attacked and asked to use her phone.
The teen said she was so scared she just wanted to go home, but the woman insisted on calling police. Officers arrived and launched a manhunt while the girl was taken to Stanford Hospital.
Police then uploaded DNA evidence from the attack to a database. A criminalist at the Santa Clara County Crime Laboratory told Hornung that her counterparts in San Mateo County had performed an investigation on a similar DNA profile, and it was possible that another agency in that county was investigating the same man, according to Hornung.
Then, on April 4, East Bay Regional Parks police notified Hornung that DNA evidence from a robbery and sex assault in Oakland appeared to match the DNA from the Palo Alto assault.
In that case, the man approached a woman sitting in her car in a parking lot at the Martin Luther King Jr. Regional Shoreline park, opened the driver-side door and brandished a pistol, demanding money.
The man then kissed and licked the woman's face and groped her crotch over her clothing before running away.
Fingerprints matched suspect
On April 7, fingerprints led the Santa Clara County Sheriff's Office Identification Unit to identify Chavarria-Diaz as the suspect. Police from Palo Alto and the East Bay Regional Parks executed a search warrant at his apartment in Richmond the next day.
Chavarria-Diaz is being held without bail. He has not entered a plea since his April 8 arrest.