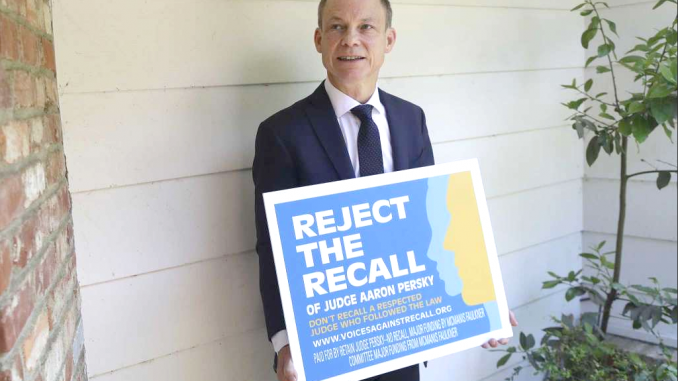 BY ALLISON LEVITSKY
Daily Post Staff Writer
The campaign to recall Judge Aaron Persky has amassed a war chest of more than $1.2 million since 2016, but the two committees raising funds to support the judge are catching up.
To date, both committees raising funds to oppose the recall — No Recall of Judge Persky and Retain Judge Persky: No Recall — have collected a combined $1 million.
In the past few weeks, the pro-Persky committees have received some large donations.
Retired Apple executive Joanna Hoffman donated $25,000 to fight the recall effort on May 8.
Eight days later, financial consultant Mark Heising, of Atherton, donated $49,900.
On May 21, Mountain View attorney Victoria Tran Sood pitched in $30,000. No Recall raised $306,748.22 between Jan. 1 and May 19.
Retain Judge Persky raised $283,744.76 in the same time period. The campaign raised $446,751.47 last year.
The recall campaign, meanwhile, raised $557,999.88 between Jan. 1 and May 19, and a total of $1.2 million since 2016.
The total for the committees supporting Persky includes $371,448.62 in legal services from the San Jose law firm McManis Faulkner. McManis represented Persky as he sued over the recall campaign, claiming it was unconstitutional.
Contributions to the anti-recall groups has picked up as public opinion about the effort to remove Judge Persky appears to have shifted. A Channel 5 Survey USA poll released last week showed the percentage of voters supporting the recall had dropped from 56% in March to 49% this month.