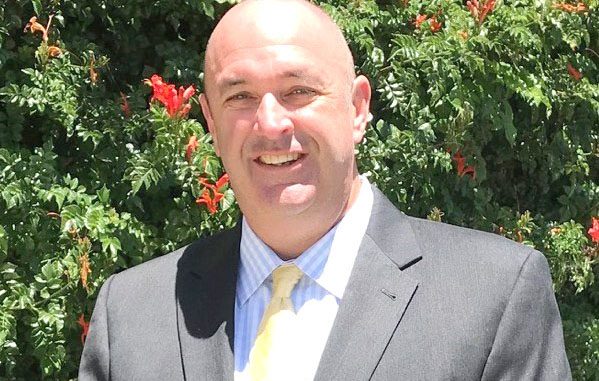 BY ALLISON LEVITSKY
Daily Post Staff Writer
The Palo Alto school district has found its next superintendent in the head of the Palos Verdes school district in Los Angeles County — an affluent, high-performing district with many of the same strengths and struggles as Palo Alto.
The school board is set to vote on Don Austin's contract May 22 for a start date of July 1. The districts are nearly the same size and both serve primarily white and Asian communities.
"As far as Southern California goes, there aren't many places here that look as much like Palo Alto as Palos Verdes," Austin told the Post yesterday. "I've needed to look to Northern California to find models of similar high-achieving, high-expectation communities, so I've had my eye on Palo Alto not only looking for best practices but looking for similarities and challenges for many years."
The two districts have also had similar problems with student stress and mental health, and Austin has looked to Palo Alto for best practices, he said. Palos Verdes has also dealt with some of the same challenges as Palo Alto with regard to students' academic achievement gap along racial and socioeconomic lines.
Austin said that when he worked in poorer districts, the challenge of bringing disadvantaged students up to speed was in some ways more straightforward than in richer districts, where it's a smaller minority of students who struggle.
Austin said he had experience addressing issues around the Title IX sex discrimination law in schools, including campus sexual harassment issues, but "not at the volume that it's impacted Palo Alto."
"The number of registered complaints and issues (in Palo Alto) is unlike anything I've seen in my experience (in Southern California)," Austin said. "But that doesn't mean that we haven't dealt with those same issues. So I'm definitely going to have some questions when I arrive about how it's reached that place."
Six interviews
Austin said he had one screening interview with the search firm that the district hired, three interviews with the school board and two with panels of community members selected by the school board.
"There was not a stone unturned. The questions ranged anywhere from high-level academic to social-emotional to extracurricular to leadership style, previous experience, successes, failures, challenges," Austin said. "It was a very comprehensive, professional, well-done process."
Palo Alto school board President Ken Dauber said that none of the board members had visited Palos Verdes during the interview process, but estimated that the board had interviewed Austin for five or six hours in all.
Austin has also faced his share of public controversies at Palos Verdes.
In September, the Daily Breeze newspaper reported that a Superior Court judge issued a tentative ruling siding with a group of parents who sued the school district for alleged violations of the Brown Act, California's open government meetings law.
The school board used overly generic language in describing what was being discussed in a closed-session meeting in which it awarded a 25-year, no-bid contract to a solar contractor, sparking months of push-back from residents angered by aesthetic and financial aspects of the agreement.
The board also failed to report in open session when it decided to abandon the controversial contract. Austin dismissed the suit in a Daily Breeze article as a "frivolous and personal campaign."
Claim of physical intimidation
In 2016, the head of a teachers' union filed a complaint with the Palos Verdes Peninsula school district claiming Austin had physically intimidated her during a negotiating session, according to the Daily Breeze.
South Bay United Teachers Executive Director Sandra Goins said Austin accused her of grandstanding and said she liked to fight, then suggested the two of them "step outside."
Goins said she was sitting next to Austin when she saw his hands shaking and his face turn red. He stopped speaking mid-sentence and walked out of the room for 15 minutes, she claimed in a letter to the school board.
Austin confirmed to the Daily Breeze that he had told Goins she was grandstanding during the meeting, but didn't comment further in the 2016 interview.
Former Palos Verdes school board President Malcolm Sharp told the Daily Breeze that Austin has a "stellar reputation" working with labor groups.
Similar incidents in both districts
Cameron Terrell, an 18-year-old Palos Verdes High School senior from a wealthy family, made headlines last fall when he was charged in a gang-related killing for allegedly driving the getaway car. Terrell is facing one murder charge and two counts of attempted murder.
In a controversy that might ring a bell for residents of Palo Alto, where a student was allowed to remain at Palo Alto High School after being convicted of sexually assaulting a teenage girl in a church bathroom, parents at Palos Verdes were outraged to learn that Terrell was allowed to return to school after being released from jail on $5 million bail.
Austin told the Daily Breeze in November that students have a right to a public education, and that "there are very clear exclusion criteria that have to occur before a student was not allowed to attend a public school."
"For a school suspension of any kind, there has to be a direct nexus to the school itself," Austin told the Daily Breeze. "These allegations have no nexus to our school. The allegations and charges against a student without a nexus to school would not be grounds for exclusion."
His background
Before becoming superintendent in Palos Verdes, Austin was assistant superintendent of educational services in the Huntington Beach Union High School District. He's also served as principal of Laguna Beach High School and La Sierra High School in Riverside. His LinkedIn profile says that he started his career as a classroom teacher.
Austin grew up south of San Diego in Chula Vista and was the first in his family to attend college. He holds a master of arts and a doctorate in education from Azusa Pacific University and a bachelor's degree from Baker University in Baldwin City, Kan. He also played football at Baker.
Austin said he was interested in working in Palo Alto because he sees it as ahead of other school districts in terms of both academic achievement and addressing mental health, emotional well-being and academic stress by bringing therapeutic services into schools.
"I think Palo Alto's really well-positioned to be a leader in the entire country in that area," Austin said. "I'm really looking forward to going to a place that not only has the means, but the desire to look for the next right answers in a whole plethora of areas that really have impact for students."
At Palos Verdes, Austin said the district had surveyed students and employees on what was creating stress in their lives and started offering therapeutic counseling. Teachers also started placing a greater emphasis on kindness and inclusiveness to combat bullying and promote emotional well-being in schools, he said.
Hendricks decided not to apply for job
Karen Hendricks, who has been serving as interim Palo Alto superintendent after Max McGee's resignation in September, decided not to be considered for the superintendent position, according to a statement from Dauber. Hendricks wishes to continue in the position for which she was hired last year, assistant superintendent for human resources.
Austin was paid $299,043 in 2016, according to Transparent California. With benefits, his compensation from the Palos Verdes district was $338,848. The Palo Alto school district was paying McGee $306,918 when he resigned in September. He also got a $1,458,888 home loan from the district.