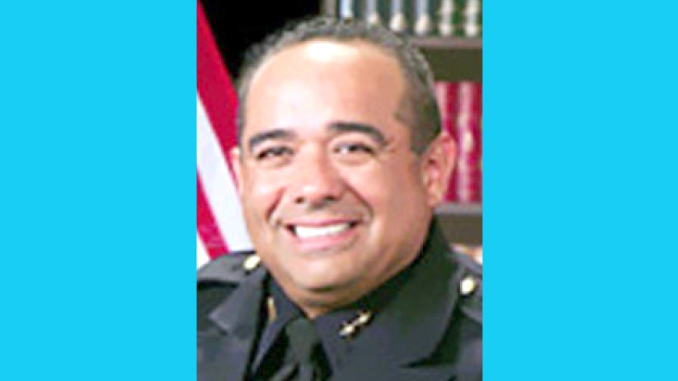 BY EMILY MIBACH
Daily Post Staff Writer
San Mateo County Sheriff Carlos Bolanos opened up yesterday (May 1) about being detained and released during an FBI raid of a Las Vegas brothel in 2007, an episode his opponent in the June 5 primary is emphasizing on the campaign trail.
"I refuse to apologize for something I didn't do," Bolanos told the Post in an interview.
"Even if it would put everything behind me and I would not have to answer to it again, I wouldn't do it. I didn't do anything wrong," Bolanos said.
Then-sheriff Greg Munks and Bolanos, who was the undersheriff, were detained at a brothel two-miles west of the Las Vegas strip on April 21, 2007. The two were in Las Vegas for the weekend to participate in a law enforcement run, the Baker to Vegas Relay. After the raid, Bolanos told KLAS-TV in Las Vegas that Munks was sore after the run and he asked a limo driver to take them to a massage parlor. While prostitution is legal in some Nevada counties, it is illegal in Clark County, where Las Vegas is located.
When they got back to San Mateo County on April 24, 2007, Munks said he thought they were visiting a "legitimate business" and he apologized to his family, the sheriff's office and the people of the county, but he denied breaking any laws. Both have maintained that Bolanos never went inside of the establishment.
According to news reports at the time, 3,500 Ecstasy pills and $25,000 were confiscated from the bordello.
On March 13 of this year, San Mateo resident Mark DePaula, who has been investigating the Las Vegas incident, addressed the San Mateo County Board of Supervisors with information he received about the raid from the FBI through a Freedom of Information Request. DePaula said there was at least one minor in the brothel. Following DePaula's March 13 address, Deputy Mark Melville, Bolanos' opponent in the June 5 primary, picked up the theme, using the raid's code name, Operation Dollhouse.
Bolanos, 59, told the Post yesterday he never went into the house that was raided.
"I was detained and released and no charges," Bolanos said.
Alluding to the constant rumors about the Las Vegas episode, Bolanos said yesterday, "It's been 11 years which is a longer sentence than someone committing a robbery."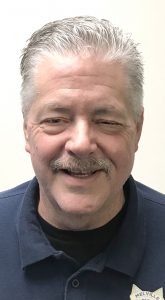 Melville says Bolanos has "too much baggage" and needs to come clean about the brothel bust.
Melville, 61, has said he is running in order to have a contested sheriff's race, with two candidates on the ballot, which he says has not happened since now county supervisor Don Horsley was elected in 1993, after sheriff Leonard Cardoza retired.
Bolanos appointed sheriff
On Nov. 5, 2015, Munks announced that he would not be running for re-election come 2018. On the same day, Bolanos announced he would be running for sheriff.
But on July 1, 2016, Munks announced he was ending his term early due to a heart condition. Bolanos was appointed by the board of supervisors 11 days later in a 3-2 vote, with supervisors Dave Pine and Carole Groom dissenting.
Before he was appointed sheriff, Bolanos had been Munks' undersheriff since 2007. Prior to that he was police chief in Redwood City for 12 years. He also worked in the Palo Alto and Salinas police departments.
Melville has been a deputy for nine years. Prior to that he was a councilman in the Merced County town of Gustine from 2002 to 2006. He was Gustine's city manager and police chief and later was the city manager of Livingston, also in Merced County. Livingston's population is 13,058 and Gustine's is 5,520.
Cooperation with ICE
Bolanos and Melville both say the sheriff's department should not be used to enforce federal immigration law but Melville said he would be less cooperative with ICE.
Currently, Bolanos' policy for dealing with ICE is compliant with the bill that would make California essentially a "sanctuary state." Deputies do not ask anyone about their immigration status, nor do they report people to ICE. The Sheriff's Office only hands off criminals to ICE if they are considered "violent and serious" offenders, such as a murderer or rapist.
Inmates' anticipated release dates are posted on the county's inmate search engine, which can be accessed by anyone, potentially including ICE.
But Melville says he would do away with posting the discharge date of an inmate and there would be no arrangements made between ICE and the Sheriff's Office to
hand over immigrants.
Body-worn cameras
Both Melville and Bolanos see bodyworn cameras as a needed tool in the department, which currently lacks the devices.
Bolanos said he had a report estimating the annual costs of operating cameras at $1.1 million ready for the board of supervisors to review. But he withdrew it after County Manager John Maltbie suggested the Sheriff's Office pay for those annual maintenance and data-management costs out of its reserves, he said. Bolanos is pushing to have the county manager pay the costs.
The sheriff's department would need to order around 500 cameras in order to outfit both patrol officers and those stationed in the jail. Bolanos said while he understands it's expensive, since the $1.1 million would be an ongoing cost, it shouldn't be something paid for with one-time funds.
The sheriff's reserves, which he estimates are at $16 million, are amassed through savings the department makes, such as when a position is vacant, but money is allocated in the budget to fund it. Melville says the fact that the office is sitting on $16 million and hasn't bought the cameras yet is "ridiculous."
Jail visitations
Neither candidate is thrilled with the fact that there is no face-to-face visitation at the new county jail on Maple Street in Redwood City. Melville said it's "mind-boggling" there's no such interaction between inmates and their loved ones at the jail, especially since there are visiting rooms in the old jail.
Bolanos said he doesn't agree with the lack of in-person visitations at the new jail, which is why the facility is being renovated to include six in-person visiting rooms. But the current video visitation is useful for inmates' families who may not have the means to get to
Redwood City to visit, Bolanos said.