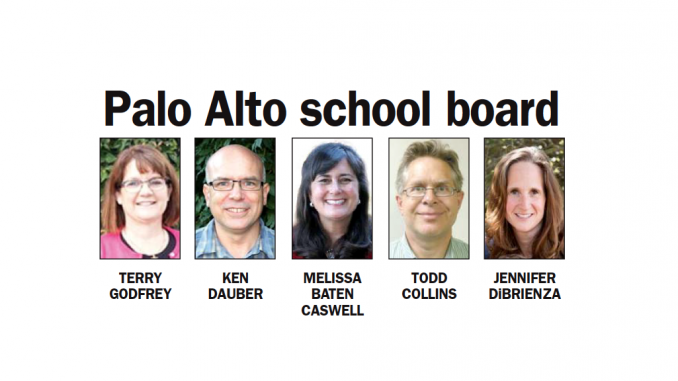 BY ALLISON LEVITSKY
Daily Post Staff Writer
After two tumultuous years in the Palo Alto school district, the board on Tuesday (April 24) will consider spending $30,000 to research the feasibility of going to the voters for a new school bond for school facilities upgrades.
The district has until June to decide whether to add such a measure to the November ballot, but could opt to hold off until March 2020 or November 2020.
The board voted to spend up to $60,000 on consultants to research feasibility, communications, potential ballot measure development, poll development and analysis and financial and legal advice.
According to the district, the board approved the most recent $750 million Facilities Master Plan and Project List in 2007, before 77.6% of voters approved the $378 million Strong Schools Bond on June 3, 2008.
Four series of bonds have been issued since then, including $120 million in 2008, $25 million in 2010, $70 million in 2013, $40 million in 2014 and $45 million in 2016.
According to the district, the board planned to return to the voters in 2018 or 2020 to fund the second half of the facilities plan.
Since August, the board has been looking at the project list, reflecting on the work completed, revisiting longterm plans and assessing the facilities at all 19 school campuses to determine what needs to be upgraded.
Each school's administration has been working to identify upgrades that they need, interim Superintendent Karen Hendricks said last week.
The board will be reviewing the results of an opinion survey prepared by the Aptos-based market research firm Gene Bregman and Associates.
At the same meeting, the board will discuss authorizing the sale of $40 million in school bonds that were approved in 2008.
In the last several years, the district has seen numerous controversies, including a mishandled complaint of an October 2016 sexual assault between two students and the revelation last year that the accused boy had been allowed to remain at the school after administrators learned he had been convicted of a previous assault in a Palo Alto church
bathroom.
Last year, a budgeting error and a missed union contract negotiation deadline led to an accidental $6 million in raises and bonuses being paid to employees.