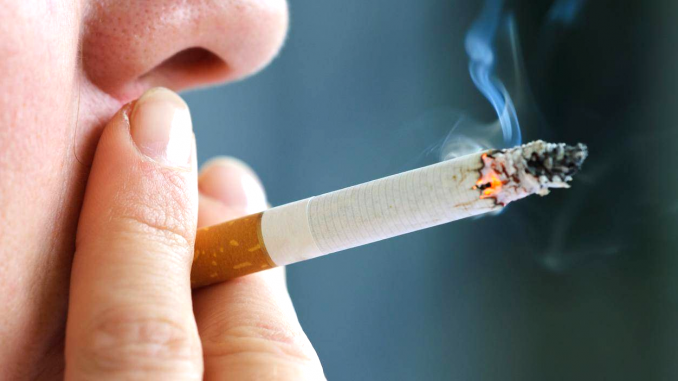 BY ALLISON LEVITSKY
Daily Post Staff Writer
Los Altos banned smoking in most public places after police received five complaints in the last six months, according to data obtained by the Post through a public records request.
Los Altos resident Roberta Phillips, 70, said she rarely notices people smoking in town. "I don't see cigarette butts, I don't see people being bothered sitting outside at restaurants," Phillips told the Post.
"To me, it was like, 'Why are they even wasting their time on this?'" she said.
Phillips, who has smoked since she was 18, said she wouldn't have started smoking if it hadn't been seen as glamorous and socially acceptable in the 1960s, but that it seems like a "non-problem" in Los Altos.
City Council passed the smoking ban on March 13, which only allows smokers to light up in the parts of the 10 city-owned parking plazas that are at least 25 feet from buildings. It's banned in all other public places in town.
Self-enforcing
The city says the ordinance will be largely self-enforcing, with signs distributed to businesses by the organization Breathe California of the Bay Area, a San Jose-based nonprofit. The signs include a phone number for Breathe California where residents can report illegal smoking.
Breathe California will then contact business owners, who are responsible for maintaining a "smoke-free environment" under the ban. After three complaints at the same business, police would be notified and smokers would be warned. After the first warning, smokers can be fined $100 to $200.
Businesses won't be fined, according to the city.
Most of the 284 people who responded to an online poll administered by the city said they supported a smoking ban in many public places as well as apartments and condominiums. The poll wasn't scientific because the respondents were self-selected.
More than 92% supported bans on smoking in outdoor dining areas. Between 80.6% and 86.3% supported banning smoking at public events and within 30 feet of service areas and doors and windows.
Between 70.4% and 78.2% supported banning smoking in common areas of apartment and condo buildings and in public places, including parking lots.
More than 57% supported a ban in individual units of multi-family housing.
While the ban had support in the city's poll, smoking complaints in Los Altos are few and far between. The number of complaints wasn't discussed at the City Council meeting.
A look at the complaints
Of the 12 police reports involving smoking since October, only five appeared to be nuisance-related.
One, on Oct. 19, was to report someone smoking in a parking lot, in violation of the city code.
On Oct. 10 and Feb. 3, callers reported people smoking marijuana outside their homes. One call was made to report a group of people smoking pot toward the back of a school.
One, on New Year's Day, reported a group of people loitering in an SUV playing music. One woman was smoking.
On Jan. 17, a caller reported someone smoking what may have been crack under a tree near Peet's Coffee.
And on Valentine's Day, a woman reported a man smoking as a "suspicious person."
Others were related to dangerous driving. On Oct. 3, police were told to look out for a driver who might have been smoking pot.
Oct. 26 saw a road rage incident involving a woman in a blue Subaru who was smoking a pipe, according to a caller.
On Nov. 13, a person smoking pot in a car outside Whole Foods was reported.
In others, smoking seems to be tangentially related to the call at best: like a caller reported his girlfriend's brother for throwing a house party and smoking pot or another drug while his parents were out of town, a medical emergency involving a person who had been drinking vodka and smoking pot and a domestic fight reported in an outdoor smoking area.
City Hall has received complaints about smoking from just two people this year, according to City Clerk Jon Maginot.
In August, Pine Lane resident Jane Seligson complained to the Terraces at Los Altos, a retirement community at 373 Pine Lane, about employees smoking cigarettes outside her house on a regular basis.
In October, after Richardson Avenue resident Barbara O'Reilly saw that the city was going to be discussing a possible anti-smoking rule, she wrote a letter of support.
O'Reilly said that while restaurants, airplanes and other indoor spaces are now smoke-free, "smokers are still very active outdoors," leaving cigarette butts in parking lots, parks, at bus stops, near residential construction sites and along creek banks.
Marijuana may be welcomed
Just as the city cracked down on smoking, it signaled some interest in bringing pot shops to town for the tax revenue.
Council expressed interest in exploring a possible cannabis tax measure, which would show the city how voters feel about having pot shops in town.