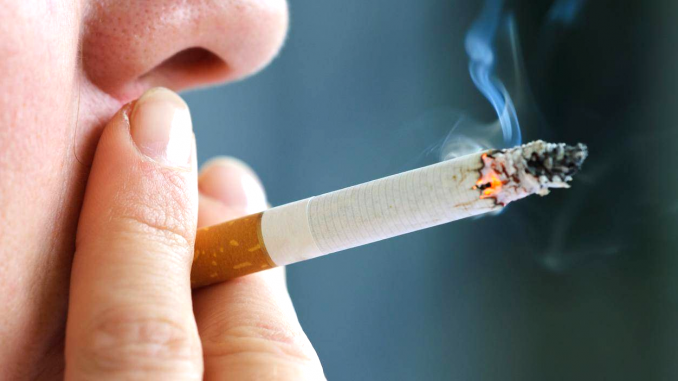 BY ALLISON LEVITSKY
Daily Post Staff Writer
At a single meeting, Los Altos both cracked down on smoking in public and considered changing its tune on allowing cannabis businesses in town.
Smoking was banned in most public places in town, but is still allowed in multi-family buildings under city law.
The only places where smokers can light up downtown are the parts of the 10 city-owned parking plazas that are at least 25 feet from buildings.
City Council voted unanimously Tuesday night to prevent smoking within 25 feet of any place of employment, sports facility, community center, library plaza, bus stop, ticket line, ATM, outdoor dining or bar area, public event or any city-owned facility.
The ordinance will be largely self-enforcing, city Management Analyst Fellow Sarah Henricks said, with free decals and tabletop placards being distributed to businesses by the organization Breathe California of the Bay Area, a San Jose-based nonprofit. The signs will include a phone number for Breathe California where residents can report illegal smoking.
Breathe California will then contact business owners, who are responsible under the ordinance for maintaining a "smoke-free environment." After three complaints at the same business, police would be notified.
The first violation of the ordinance would bring a warning to the smoker, with the second and third violations causing fines of $100 and $200. Businesses wouldn't be fined, however.
Roberta Phillips, a smoker who lives in Los Altos, raised concerns about this enforcement system.
Compared to McCarthyism
"I think that is a violation of civil law to have Breathe California collecting residents' names because somebody has turned them in," Phillips said. "This is like McCarthyism. This is George Orwell's '1984.'"
Mayor Jean Mordo also raised concerns about the ordinance's reach into individual freedoms in the interest of promoting public health advocating for the fines to be lowered and to lift the restriction from common areas of multi-family buildings.
"In that case, we should forbid Coca-Cola and burgers and all that because they are unhealthy food. There are lots of things that are unhealthy," Mordo said.
Councilwoman Mary Prochnow fired back, "You won't send Jeannie to the hospital if you eat a hamburger or drink a Coke."
Vice Mayor Lynette Lee Eng and Councilwoman Jeannie Bruins both have asthma.
Palo Alto has a similar ban. Mountain View bans smoking in outdoor dining areas, entryways and at public events.
Marijuana tax
In a study session Tuesday, council also discussed the idea of taxing the sale of marijuana.
The city already passed a temporary ban on cannabis businesses, as many other California cities did before marijuana businesses became legal statewide on Jan. 1.
But Los Altos is now considering the benefits of a 10% cannabis sales tax, along with an increased hotel tax and a potential affordable housing impact fee.
Mordo suggested charging developers an affordable housing impact fee, which, unlike the taxes, wouldn't need approval on a ballot.
"I voted against legalizing marijuana, but I'm in favor of taxing it," Mordo said.
Mordo reasoned that if marijuana shops opened up on El Camino Real in Palo Alto or Mountain View, the shops would be operating just blocks from Los Altos city limits without bringing the benefits of tax revenue.
City Attorney Christopher Diaz said the council could opt to make legal pot shops contingent on voters' approval of a proposed tax.
The revenue would be funneled into the city's general fund, where it could be used for police, traffic safety measures, facility maintenance and improvements and downtown projects. It would need to be approved by a majority of voters.
Los Altos' current hotel tax is 11%. Mountain View's is 10% and Palo Alto's is 14%. Los Altos brings in $2.6 million annually from the hotel tax. A 12% hotel tax would increase that to $2.9 million. A 13% tax would bring in $3.1 million and a 14% tax would bring $3.3 million.
Mordo urged council to bring the hotel tax up to Palo Alto's level, arguing "We are a fancier city."
"It's not about fancy. Los Altos is not a destination," Bruins said, pointing out that Stanford and Silicon Valley businesses provide a draw for travelers to stay in Palo Alto.
The city would need to approve the revenue measures in July in order to qualify them for the Nov. 6 ballot by the deadline of Aug. 10. It's expected to cost between $50,000 and $100,000 to add each measure to the ballot.