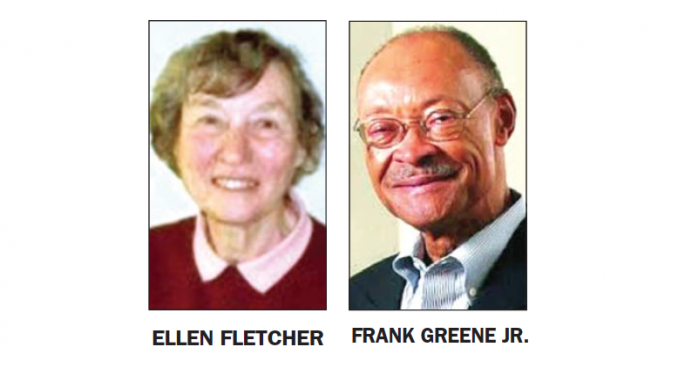 BY ALLISON LEVITSKY
Daily Post Staff Writer
After more than two hours of debate and impassioned comments from more than 65 members of the public late last night (March 27), the Palo Alto school board settled on new names for Jordan and Terman middle schools.
The board voted unanimously at about 11:30 p.m. to rename Terman after former Palo Alto Councilwoman, Holocaust survivor and bicycle advocate Ellen Fletcher and Jordan after Frank Greene, a black Silicon Valley engineer who started a venture capital firm to invest in the businesses of women and people of color.
Board President Ken Dauber said that honoring Palo Alto figures who had been victims of discrimination was in the spirit of the exercise of renaming the schools, which kicked off a year ago when the board decided to do away with the names of Jordan and Terman because both their namesakes, David Starr Jordan and Lewis Terman, were eugenics advocates. Board trustee Melissa Baten Caswell also said that Fletcher should be honored for her volunteerism.
"Forty years of volunteering, of giving your time for no pay, is a pretty big deal," Baten Caswell said. "That is something we want to hold up for our kids, how important it is to give back."
About the new namesakes
Board trustee and Barron Park resident Todd Collins pointed out that Fletcher lived in south Palo Alto, which some argue has been underrepresented in civic life.
Fletcher served on City Council from 1977 to 1989, but was never elected mayor. She served as vice mayor in 1981. The Bryant Street Bicycle Boulevard is named after her.
Collins said he was partial to Greene for his technical and entrepreneurial achievements, including holding a patent for the design of what was the fastest memory chip at its time, but expressed doubts about the depth of his involvement in Palo Alto.
"He was not a resident of Palo Alto. He didn't live here. He didn't send his kids to school here," Collins said. "He wasn't a part of the life of the community in the same way that the others were. He wasn't civically engaged in the way the others were."
Fairchild connection
Sara Woodham, a school district parent who served on the Recommending School Names Advisory Committee and performed much of the historic research, said that Greene's connection to Palo Alto was through Fairchild Semiconductor.
The venture capital firms that he formed were headquartered in downtown Palo Alto, Woodham said. Greene also spent a couple of years in the electrical engineering department at Stanford.
"For us, Frank Greene definitely met that test of being connected to Palo Alto," Woodham said.
Board Vice President Jennifer DiBrienza urged Greene's name to be chosen because he was one of the only two people of color on the list of six names.
Committee's racial makeup
Some residents raised concerns about the racial makeup of the committee, which included no Asian or Latino members despite that those two groups together comprise 48% of the school district. The district is 36% Asian and 12% Latino.
Baten Caswell said the district had done a thorough job trying to recruit committee members, stating that former Superintendent Max McGee had taken to the Chinese social media app WeChat to try to recruit individual community members for the committee.
The other person of color on the list, Palo Alto High School graduate Fred Yamamoto, had been eliminated in response to dozens of pleas for and against the name.
Yamamoto controversy
Yamamoto was held in a Japanese internment camp during World War II, then enlisted in the army and died in combat.
Many public commenters were Chinese immigrants who spoke about the bad memories that the name Yamamoto would stir up because it reminded them of Isoroku Yamamoto, the Japanese admiral who masterminded the attack on Pearl Harbor.
Residents and board members alike acknowledged the rift that the name had created in Palo Alto.
"The last name Yamamoto triggers painful feeling and painful memory," Amanda Chi said. "I think your role and mission should not lead you to choose a name of controversy."
Terman name
Many residents claimed that the board's decision to remove the name Terman, despite that Lewis Terman's son Fred Terman had no connection to the eugenics movement, created a double standard for Chinese residents' relationship to the name Yamamoto, though Fred Yamamoto had no relationship to Isoroku Yamamoto other than sharing the fourth most common Japanese surname.
Some first-, second- and third-generation Chinese-Americans voiced support of the Yamamoto name.
"We're just perpetuating the discrimination. We're discriminating based on a name," Patty Lee said.
Others, including Japanese-Americans, spoke in favor of the Yamamoto name.
"This is an American story about an American patriot that gave his life for his country," World War II veteran Lawson Sakai said. "Fred Yamamoto became a prisoner of war in his own country, the United States. But Fred Yamamoto did not turn his back on his country."