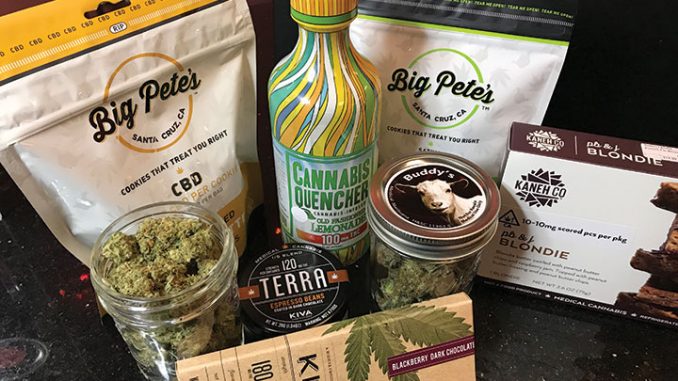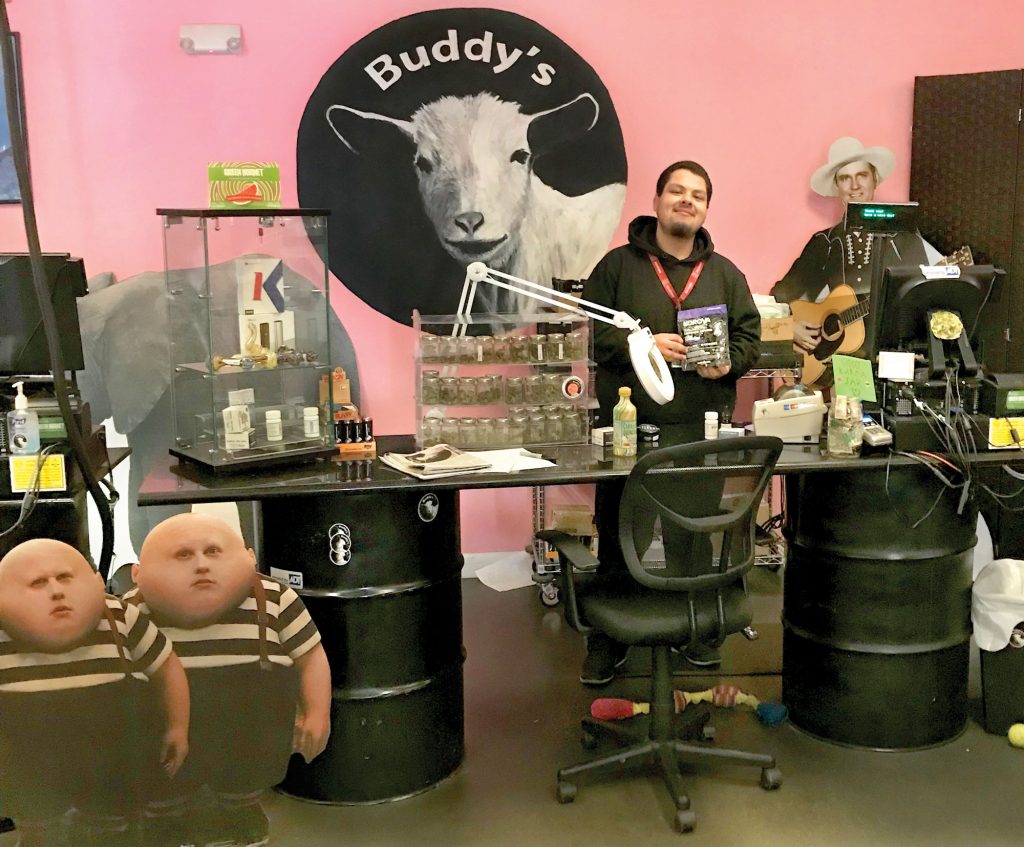 Not every marijuana dispensary is a place you'd bring your 80-year-old grandmother, but Buddy's Cannabis is that sort of shop: Well-stocked, informative and welcoming to everyone, from experienced cannabis aficionados to regular medical patients to people just trying things out for the first time.
Budtender Emmett says he sees customers of all ages and all walks of life, but he told the story of a 25-year-old woman who brought in her 80-year-old grandmother. The granddaughter was experienced with cannabis and knew what strains she liked, said Emmett. But her grandmother, a new widow, had never tried cannabis before. She was experiencing some general pain and looking for something to improve her overall well-being.
After consulting with her about her needs, Emmett ended up recommending she buy a tincture with high ratio of cannabidiol, which can help with pain and inflammation and produces a non-euphoric sense of well-being. Less well-known than THC, cannabidiol, or CBD, is the other main compound found in cannabis and has different benefits and effects.
"Looking for cannabis doesn't mean you're necessarily looking to get high," said Emmett.
Located in San Jose, Buddy's has been providing access to quality medical marijuana since 2010 and was the first dispensary to be licensed by the state to sell cannabis for recreational use as of Jan. 1.
Their knowledgeable budtenders can guide you through their extensive selection of 30+ strains of flower, as well as their array of edibles, tinctures and cannabis oil vape cartridges. Whether you are a medical or recreational user, they can help you find the product that is right for your needs.
In addition to flower and other products, they sell pipes, bongs, rolling papers, vape pens and other gear.
"Everything someone needs to get started, we have," said Emmett.
In accordance with state law, recreational users can buy up to 1 ounce of flower a day, or 8 grams of concentrated cannabis. Medical marijuana users can purchase up to 8 ounces of flower a day.
On Wednesdays the dispensary offers discounts for seniors age 55 and up. If you're 55+, you get a free pre-rolled joint with a purchase of $50 and up. If you're age 65+, you get that plus 10% off your purchase.
Buddy's is open from 10 a.m. to 8 p.m. Monday through Saturday and from 10 a.m. to 5 p.m. on Sundays. You must have a driver's license or other valid ID and be 21+. Buddy's takes cash and credit and debit cards, including Amex and Discover.