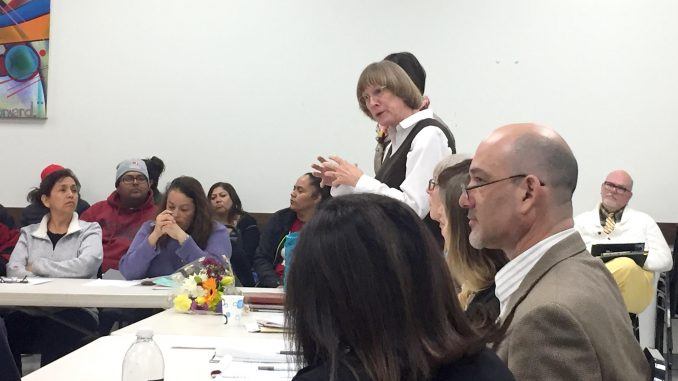 BY EMILY MIBACH
Daily Post Staff Writer
East Palo Alto and east Menlo Park families who rely on preschool and child care services from the Ravenswood City School District were told last night (Feb. 28) that they will have to find another program for their children for six weeks over the summer.
The Ravenswood district, facing a money crisis, is shutting down the preschool, and there will be a gap before a new operator takes over.
The preschool, known as the Ravenswood District's Child Development Center, will close on June 30, San Mateo County Superintendent Anne Campbell said last night to a room full of parents and employees of the preschool.
The school board voted Feb. 8 to slash $5.8 million from its $48 million budget. One of the cuts will be the preschool program.
About 140 children between 3 and 5 attend the preschool at 951 O'Connor St. in East Palo Alto, according to the county.
Campbell and others from the county Office of Education met with parents and employees to lay out what the county knows so far regarding the closure of the preschool.
Campbell said the following will happen:
• They'll make sure the county can take over the preschool at its current location from the Ravenswood district.
• Once the location is secured, the county will begin looking for a contractor to run the preschool.
• The preschool, known as the Child Development Center, will close on June 30, and the school district will clean out the premises.
• The district's contractor will set up shop at the preschool, and receive an inspection from the state. She said it can take about six weeks for the contractor to get set up and for the license to be issued.
County promises to help
In the meantime, the county will work with parents and the Child Care Coordinating Council of San Mateo to find places for children to attend during the six weeks.
As long as parents team up with the county to find interim preschool or child care for their child, they will not need to re-register their child for preschool in the county. And once the Child Development Center is reopened, families will be able to transfer back to the center.
The county is hoping to have the new preschool open by Aug. 15.
Since the district and the county are still in negotiations over the space, and still must get the plan approved by the state, Campbell warned families that this will not be a smooth process, but her office will try to do everything it can to help parents and children through the process.
The county will be keeping parents up-to-date on the process and may hold more meetings with parents and employees of the preschool.