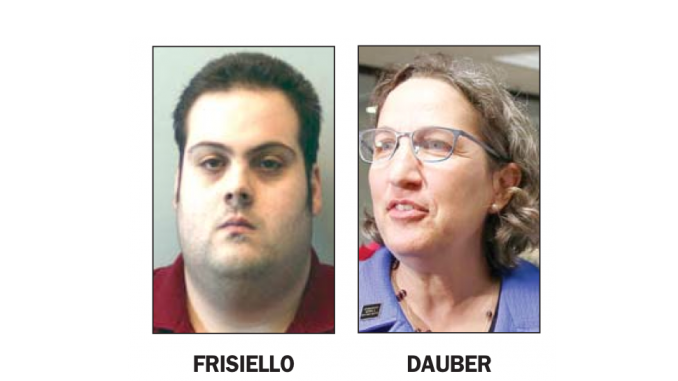 BY ALLISON LEVITSKY
Daily Post Staff Writer
A man accused of sending letters with white powder to five people, including Donald Trump Jr. and Stanford law professor Michele Dauber, was arrested in Massachusetts yesterday (March 1).
Daniel Frisiello, 24, of Beverly, Mass., was linked to the letters postmarked in Boston and sent to Sen. Debbie Stabenow, D-Michigan, interim U.S. Attorney for the Central District of California Nicola Hanna and Antonio Sabato Jr., the Republican former model and soap opera actor who is running for Congress in Southern California.
The powder turned out to be harmless.
Dauber is the leader of the campaign to recall Judge Aaron Persky, who sentenced former Stanford student Brock Turner to six months in county jail for sexually assaulting an unconscious woman on campus.
She received two threatening letters that authorities have traced to Frisiello, including one that contained white powder that prompted the closure of two rooms at the law school's William H. Neukom Building on Valentine's Day.
The message read, "Since you are going to disrobe Persky, I am going to treat you like 'Emily Doe.' Let's see what kind of sentencing I get for being a rich white male."
Emily Doe is the courtroom pseudonym given to the woman Turner assaulted outside a fraternity party in 2015.
A note with glitter Dauber said she received a note bearing an identical message on Feb. 5. She said that note had been mailed to her via the prank service ShipYourEnemiesGlitter.com, which delivers letters containing glitter that spills out and creates a mess upon opening.
The owner of the company confirmed that Frisiello had ordered the glitter bomb. It was later determined that it was paid for with Frisiello's credit card.
"Our campaign is not going to be intimidated by threats and personal attacks," Dauber said in a statement. "We are going to continue to stand with survivors of sexual assault and on June 5, the voters will recall Judge Persky."
Retired Judge LaDoris Cordell, an outspoken opponent of the recall campaign, said on Feb. 14 that the threat had the "hallmarks of a publicity stunt."
Yesterday, Cordell said, "I'm glad that the powder was harmless. I'm glad that they have apprehended the alleged perpetrator."
Frisiello was held during an appearance in federal court in Worcester, Mass., pending a detention hearing scheduled for Monday. He showed no emotion as he was led into court wearing a red polo shirt with his hands cuffed and ankles shackled.
A prosecutor said family members told them Frisiello may be on medications for suicidal thoughts.
His lawyer did not immediately comment. A voice message left at his home was not immediately returned.
"These kind of hoaxes may not cause physical harm, but they scare the heck out of people," said Andrew Lelling, U.S. attorney for Massachusetts.
Hoax attacks using white powder play on fears that date to 2001, when letters containing deadly anthrax were mailed to news organizations and the offices of two U.S. senators. Those letters killed five people.
Frisiello worked for Catholic Charities of Boston's Peabody childcare center. He was placed on leave immediately after the FBI informed the organization of his arrest, a spokeswoman said.
The Associated Press contributed to this story.