BY ALLISON LEVITSKY
Daily Post Staff Writer
"Digital DNA," the condemned circuit board egg sculpture in downtown Palo Alto, has another three weeks to seek a new home before the city removes and destroys it.
Artist Adriana Varella is fighting the city's plan to remove the 7-foot egg with public spectacles such as an open mic event and a worship ritual.
After the city's Public Art Commission voted on Nov. 16 to remove the sculpture because of the thousands of dollars in maintenance it has continued to require, Varella was given until Thursday (Feb. 22) to find a new home for the sculpture.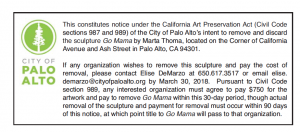 Varella's attorney Nicholas O'Donnell, meanwhile, has been in talks with City Attorney Molly Stump's office.
As it turns out, the city is required by the California Arts Preservation Act of 1979 to post a public notice of the sculpture's removal 30 days in advance.
The egg can be yours
The city placed an ad in the Post on Feb. 15, calling for anyone interested in claiming the sculpture and paying for its removal to contact Public Art Program Director Elise DeMarzo at (650) 617-3517 or elise.demarzo@cityofpaloalto.org by March 19.
DeMarzo said she hadn't gotten any interest since posting the ad, other than one "tepid" phone call.
"We want any parties interested in taking ownership of the piece to please contact me as soon as possible," DeMarzo told the Post. "If the artist doesn't take the piece back, we want to find a new home for the sculpture."