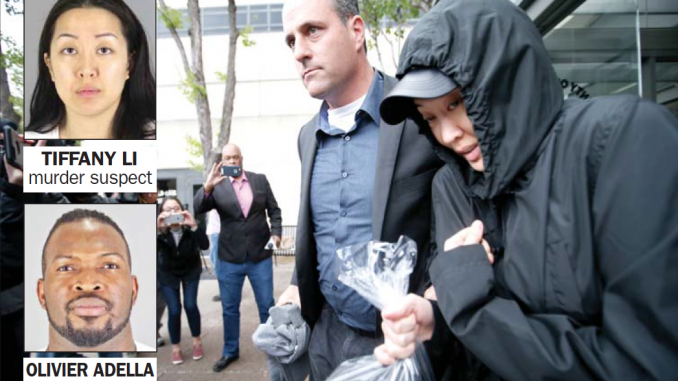 BY EMILY MIBACH
Daily Post Staff Writer
A wealthy Hillsborough real estate scion who is free on $35 million bail after she was charged with murdering the father of her two children has a new problem with her defense.
One of the two men who was charged with Tiffany Li pleaded no contest yesterday (Feb. 22) to being an accessory to the murder and will testify against her at trial.
Olivier Adella, 40, pleaded no contest to a charge that alleges he disposed of the body of Keith Green, 27, in Sonoma County last year. Green's body was found in May with a bullet to the neck. Prosecutors believe that Kaveh Bayat, 29, shot Green and had Adella dump the body, all at the behest of Li.
"In order to obtain convictions of the two people we believe are responsible for the murder, this is a good resolution," San Mateo County District Attorney Wagstaffe said yesterday (Feb. 22).
Green met with Li at the Millbrae Pancake House on the night of April 28, prosecutors said. The next day Green was reported missing by his roommate. His body was found in May.
Record bail
Li made headlines last year when she posted the highest recorded bail amount in county history, $35 million. Prosecutors sought the high bail because they were afraid she would flee to China.
The Hillsborough woman's family, friends and business associates raised $4 million in cash and pledged Bay Area properties with a combined value of $62 million in order to post her bail.
Under the plea bargain announced yesterday, Adella will remain in jail until the trial of Li and Bayat is completed. The trial is set to begin Sept. 17 in San Mateo County Superior Court in Redwood City.
Jail time for Adella
After the trial, a judge will sentence Adella, Wagstaffe said. The maximum prison time Adella could get as an accessory to murder is three years. Based on the amount of time he has already served and will serve by the time the trial is over, Adella may be nearly done with his incarceration when sentencing rolls around, Wagstaffe said.
Adella's attorney, Dek Ketchum, did not return the Post's messages to comment on the plea deal.