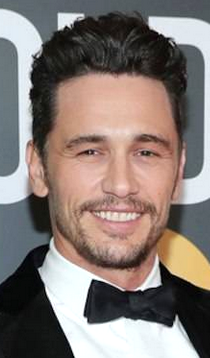 Palo Alto native James Franco attended last night's SAG Awards, but viewers might not have seen him. After being accused of sexual misconduct, the "Disaster Artist" star appeared to skip the red carpet where celebrities are interviewed, the New York Post reported.
He also skipped the on Jan. 11, which took place just hours after five women hurled accusations of sexual exploitation or inappropriate behavior against him in a Los Angeles Times story.
Franco was nominated for outstanding performance by a male actor in a leading role, but that award was won by Gary Oldman for his performance as Winston Churchill in "Darkest Hour."
Inside the show, James didn't sit next to his brother and "Disaster Artist" co-star Dave Franco, who instead was seated next to his wife Alison Brie and the cast of her Netflix series "Glow."
Prior to the awards show, "E! News" host Giuliana Rancic asked Brie about the accusations against her brother-in-law, and she said, "I  obviously support my family, and not everything that's come forward is fully accurate, so I think we're waiting to get all the information. But of course now is the time for listening and that's what we're all trying to do."
Franco's attorney, Michael Plonsker, disputed the allegations to the Los Angeles Times.
The revelations have overshadowed the career of a celebrity with close ties to Palo Alto. In addition to being a Paly grad, Franco appeared in the film "Palo Alto." He also helped write the screenplay from his book of the same name. And he taught an acting class at Palo Alto High School in 2015.
Meanwhile, SAG presented its best film actress award to Frances McDormand for her "Three Billboards Outside Ebbing, Missouri" performance.
McDormand plays the mother seeking justice for her daughter, who was raped and killed, and takes on the small town police force who she doesn't believe is doing enough to solve the case.
Cue the tears. NBC's "This Is Us" won the SAG Award for best television drama ensemble.
The NBC series stars Milo Ventimiglia, Mandy Moore and Sterling K. Brown and tells the story of the tight bonds of a family, with flashbacks filling in the backstories of the characters, including the origins of their secrets.
Nicole Kidman was the winner of the SAG Award for best actress in a television limited series or movie.
Kidman won for "Big Little Lies" in a category in which two of her co-stars were also nominated.
Kidman plays a housewife who gave up her professional life to care for her sons with an abusive husband, played by Alexander Skarsgard.