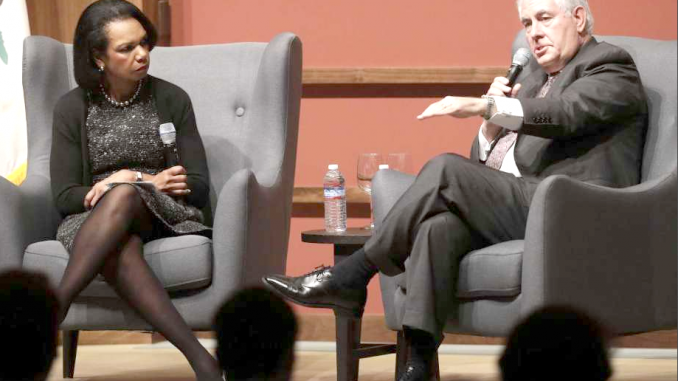 By Bay City News
U.S. Secretary of State Rex Tillerson made an appearance at Stanford Wednesday (Jan. 17), accompanied by former Secretary of State Condoleezza Rice to discuss what Rice called "a comprehensive look at one of the country's most daunting problems."
The topic of the U.S. current involvement in Syria was the main focus of Tillerson's remarks at the event, which was set up by the Freeman Spogli Institute for International Studies and the Hoover Institution at Stanford.
Tillerson said ISIS "morphed from Al-Qaida when troops were pulled out of Iraq prematurely in 2011" and said the U.S. cannot repeat that in Syria.
He also talked about how he believes the same mistake was made in Libya when the U.S. intervened in the overthrow of leader Moammar Gadhafi.
Tillerson said that President Trump's administration's current diplomatic policy is very simple: to protect our country and our allies abroad from terrorist attacks.
He noted many times that our allies have suffered from terrorist attacks in the last few years, which is why the administration is working to be that much more proactive.
Syrians, Iraqis freed
Tillerson was optimistic in discussing how more than 3 million Syrians and 4.5 million Iraqis have been freed and are returning back to their regions to re-establish their lives. In 2017 alone, an estimated 100,000 Syrians returned home to the country's southwest region. The U.S. will help in clearing dormant land mines that were never set off, and in reopening schools and hospitals that sustained damage in areas once dominated by the regime of Syrian president Bashar al-Assad, who Tillerson said will take time to defeat and replace with suitable leadership.
Extra U.S. diplomats have been deployed to Syria to assist with resources in liberated areas, which Tillerson discussed as being the other half of the equation to "a positive political path forward" that wouldn't just be completed by military operations.
The second step on the administration's agenda is de-escalation of the civil war, which will include efforts in partnership with Jordan — where many refugees have fled — and Russia.
Tillerson said Russia's "unique leverage on the Syrian regime" will be an asset to the allies working through "the incremental process of reform" that is taking place.
"The re-assertion of national sovereignty by a new government, along with de-escalation efforts and new flows of international aid, will lower violence, set better conditions for stability and speed up departure of
foreign forces," Tillerson said.
His relationship with Trump
Former secretary Rice, now a Stanford professor and Hoover fellow, inquired about how Tillerson deals with Trump's free-flowing tweets that often involve diplomatic subject matter.
Tillerson said that he does not have any social media accounts and he will "probably go to his grave without ever making one."
Tillerson said that his staff prints out pages of Trump's tweets as soon as they see them and bring them to him so that he can look at early reactions from the public and strategize on how to use and address them. "The Twitter account did take some getting used to," Tillerson said.
Tillerson commented that Trump bypasses traditional means of communication by being candid on social media. He said that he does not know when tweets are going to come out, but that Trump "thrives" on Twitter and is "world class" on social media while Tillerson is not.
Tillerson commented on Trump's inclination to discuss foreign aid and talk about specific countries that he believes are doing well, but are not doing their fair share in providing aid.
"The president is rightfully asking 'Are you doing your share?' when it comes to each nation's finances," Tillerson said. "We are demanding that others do their part and step up."
North Korean threat
He was later pressed by Rice to give his own comments about the U.S. relationship or lack thereof with North Korea, made even more aware to Americans by the false alarm about a missile heading to Hawaii over the weekend, and how the administration is working with South Korea and China to keep nuclear war threats at bay.
Tillerson said that developing a policy for relations with North Korea was his first project from Trump when he sat in the Oval Office with him last February. From that came what Trump refers to as the "maximum pressure" policy.
Tillerson said that we have never had this much support from China before, and that through communications about how to neutralize the situation related to North Korea, the U.S. is working to remind China that while North Korea's alliance used to be an advantage to them, it's now a liability.
As for correspondence between the United States and North Korea, Tillerson said that Kim Jong Un, the country's supreme leader, knows how to get ahold of him and that the U.S. is not going to chase after North Korea to talk about negotiating nuclear and missile programs.