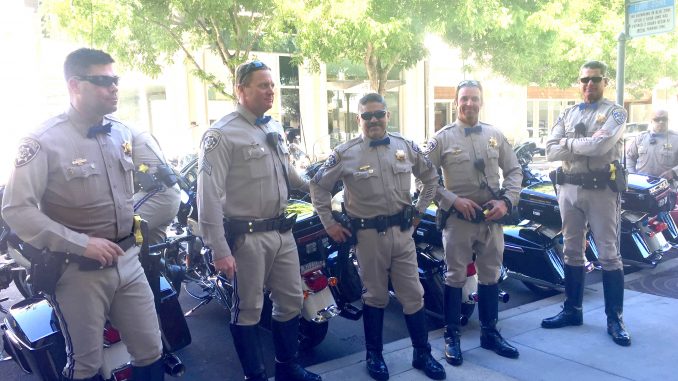 BY ALLISON LEVITSKY
Daily Post Staff Writer
A CHP motorcade decked out in blue bow-ties accompanied German President Frank-Walter Steinmeier to HanaHaus in downtown Palo Alto yesterday, where he met with startup leaders to learn how to stoke Silicon Valley-style prosperity among tech companies in Germany.
Steinmeier, a 62-year-old Social Democrat who was elected last year, flew home to Germany last night after two days in the Bay Area, according to Patrick Heinz, deputy consul general of the German consulate in San Francisco. In Germany's parliamentary system of government, the chancellor, currently Angela Merkel, is the nation's leading political figure and chief executive. The president gives direction to political debates, has "reserve powers" in case of instability and represents the country in matters of international law, enters treaties and signs all federal laws.
On Tuesday, Steinmeier attended an event on the proliferation of artificial intelligence at the Stanford Faculty Club, then met briefly with former Stanford political science professor Condoleezza Rice, who he knows from when she served as U.S. secretary of state under President George W. Bush.
Steinmeier then had dinner in San Francisco with Gov. Jerry Brown, Heinz said. Yesterday morning, Steinmeier met with representatives of trade unions, with whom he spoke about the future of work and how unions operate in Silicon Valley.
Visited the Tenderloin
He stopped off at St. Anthony's homeless service center in San Francisco's Tenderloin District "to see that side of economic development" in the Bay Area.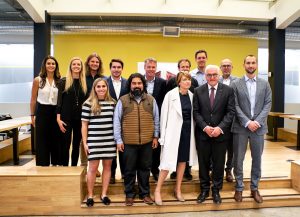 A bystander threw a bottle at a motorcycle officer accompanying the motorcade at Hyde and Turk streets in the Tenderloin around 10:40 a.m., according to the San Francisco police. The officer was taken to a hospital for his injuries.
Steinmeier then attended the World Economic Forum's Center for the Fourth Industrial Revolution at the Presidio, where he participated in a discussion on the future of work and democracy in light of technological advancements.
Dropped in at Hana-Haus
Steinmeier then traveled back down to Palo Alto to meet with mostly German startup leaders at HanaHaus, located at 456 University Ave., to understand what brought the companies to leave Germany, what made them successful here, how they define success and what this may mean for Germany.
"We cannot copy Silicon Valley, but maybe we can create an environment where we make it easier for startups," Heinz said.
Afterward, Steinmeier met with Hewlett Foundation President Larry Kramer to discuss the digital revolution of democracy before catching a flight back to Germany.
Palo Alto police had announced on Tuesday that a VIP escort would likely cause traffic delays "in and around the University Avenue to Highway 101 corridor" from 5 p.m. to 6:30 p.m., but didn't name the dignitary.
CHP officers and consulate employees could be seen milling about downtown Palo Alto yesterday afternoon.