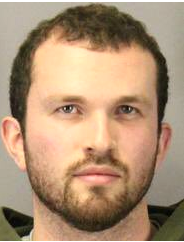 BY ALLISON LEVITSKY
Daily Post Staff Writer
A part-time music teacher who was arrested on suspicion of touching a Sunnyvale high school student inappropriately also worked at Palo Alto High School, according to an email to parents from Principal Kim Diorio.
Henry Reed, 23, of San Jose, was arrested by Sunnyvale police on Friday and booked into jail for allegedly sending indecent material to the 17-year-old girl and annoying or molesting her.
Police didn't say whether the girl attended Fremont High School, the only public high school in Sunnyvale.
Reed "was hired part-time this school year by PAUSD to assist Palo Alto High School with the concert and symphonic bands percussion section," Diorio said in her email to parents on Tuesday. "Prior to hiring Mr. Reed, he was fingerprinted by the district and received clearance before working with students, as is our policy."
"We have no additional information to provide to you about the case as it is still under investigation," Diorio wrote. "… Safety is always our top priority and the school district immediately placed Mr. Reed on leave upon hearing of his arrest."
Diorio said Paly's guidance counselors and "wellness staff" were available to students who have any information about Reed.
Investigation at Paly
She also said the district would conduct its own investigation, and that administrators intend to speak directly with the percussion students with whom he may have interacted.
Sunnyvale police haven't identified any other victims, and aren't working with Palo Alto school administrators in their investigation.
"We are not personally working with any of the school districts. We are expecting them to do their part in the sense of getting information out," Sunnyvale Department of Public Safety Capt. Shawn Ahearn told the Post.
Reed was arrested the same day that school officials in Sunnyvale told police they thought he had engaged in inappropriate behavior with the teenage girl.
The girl showed evidence to police that Reed had made inappropriate comments and requests to her and had touched her inappropriately and forced her to touch him, police said. He was booked into the Santa Clara County Jail.
Four other cases
Reed is the third Palo Alto school district faculty member to be arrested on suspicion of sexual misconduct in the last two years. A fourth teacher accused of misconduct wasn't charged with a crime, but was paid $150,000 by the district to resign in 2015.
And three years of sexual harassment complaints about former Paly Principal Phil Winston came out last year after Diorio, then his vice principal, withheld them out of fear of retaliation.
Former Paly biology teacher Ronnie Farrell, 48, was admitted to the California Substance Abuse Treatment Facility in the Central Valley on May 10. He was sentenced to two years and eight months in state prison last year after pleading no contest to sexually assaulting a 15-year-old student in his classroom.
Farrell was arrested on June 15, 2016 after he had arranged to meet the girl at Paly but was instead confronted by police officers. One of the girl's parents told police that he had been communicating with her on social media and that he had asked her to meet him at school on June 7, 2016.
Classroom incident
That day, Farrell led the girl to his classroom, where the two were alone. While talking, Farrell put his hands under the girl's clothes and touched her breasts, then took one of her hands and placed it on his groin, over his clothing.
Former Ohlone Elementary teacher Michael Airo, 36, is set to go on trial Jan. 29 for allegedly molesting his live-in girlfriend's daughter for three years before he began working for the district. (See related story on page 4 on Thursday's Post.)
Kevin Sharp, a former English teacher at Paly, was accused of having a sexual relationship with a student after she graduated in 2014. The student's ex-boyfriend accused Sharp of "grooming" her for a future sexual relationship while she was still in high school. No charges were filed, but the district paid him $150,000 to resign in 2015.
When Diorio was vice principal at Paly, she received so many complaints about former Principal Phil Winston, including instances of sexually inappropriate comments made to and about students, that she tracked them on a spreadsheet for three years. But she never came forward out of a fear of retaliation, she said last year.
"For her failure, Ms. Diorio was promoted," district parent Kathy Jordan told the Post in an email. "I think one helpful practice would be to allow or require observation in classes, on a drop-in basis, by parents or by staff, at any time, as long as they observe strict standards to simply observe."
After the complaints were made public in 2013, Winston stepped down as principal and was reassigned as a special education teacher. The district attempted to fire him, but he fought the dismissal. In 2015, the district paid Winston to resign.
The district screens its hires with a background check, but many sex offenders don't have criminal records.
"Welcoming and embracing complaints made, rather than defending staff members, taking those complaints seriously and nipping problems in the bud: all of these would be helpful practices," Jordan said. "Instead we have a culture of noncompliance, a lack of transparency and accountability and a refusal to take corrective actions when they are warranted."
School board president Ken Dauber didn't return a request for comment.