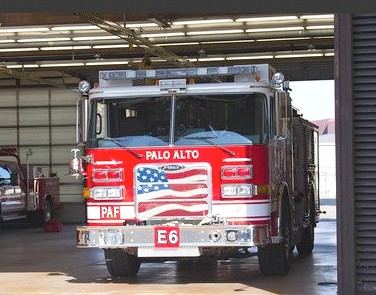 BY ALLISON LEVITSKY
Daily Post Staff Writer
A group of Palo Alto firefighters who sued the city for additional overtime wages last year have settled with the city, which has ponied up as much as $1.5 million and possibly much more for dozens of other eligible city employees who were given the opportunity to opt in for their own payouts.
The firefighters who benefited had all declined city health insurance and were paid the cash value of the health care plan. But the city didn't calculate that cash value into the firefighters' hourly wage, which would have increased their overtime rates. And, according to the June 10, 2016 suit, the city treated the payments as wages for the purposes of applicable tax withholdings.
On Feb. 10, the city agreed to pay Doug Slezak and a group of firefighters including Brian Kerezsi, Norman Park, Joseph Penko, Kyle Salisbury, Anthony Sozio, Kevin Wilcox, Jesus Zuniga and Eban Johnson up to $169,595 each, including as much as $117,500 for payment to plaintiffs, $47,501.77 for attorneys' fees and $4,567.23 for other costs.
Of the payment to plaintiffs, half went to back pay and half went to liquidated damages. Slezak made $211,766.23 in salary and benefits last year, including $26,778.27 in overtime pay.
After reaching the settlement, the city notified all other current and former employees who qualified for similar payments along with the amount for which they were eligible, based on the city's payroll records of overtime hours worked.
Eligible employees were given until May to opt in. The city didn't release the number of employees who ultimately benefited from the settlement.
The suit claimed that more than 40 other city employees would be eligible for the compensation.
The other eight named plaintiffs filed affidavits to be included in the suit between June 29, 2016, and Sept. 14, 2016.
The suit followed a June 2016 court decision regarding overtime pay. The U.S. Ninth Circuit Court of Appeals sided with a group of police officers in a case they brought against the city of San Gabriel, Flores v. City of San Gabriel.
Attorney David Mastagni, who represented Slezak, said last year that the suit was not unique to Palo Alto. His Sacramento-based firm was looking at cases in cities statewide.
Fire Capt. Ryan Stoddard, president of the firefighters' union in Palo Alto, told the Post last year that the union wasn't behind the lawsuit.