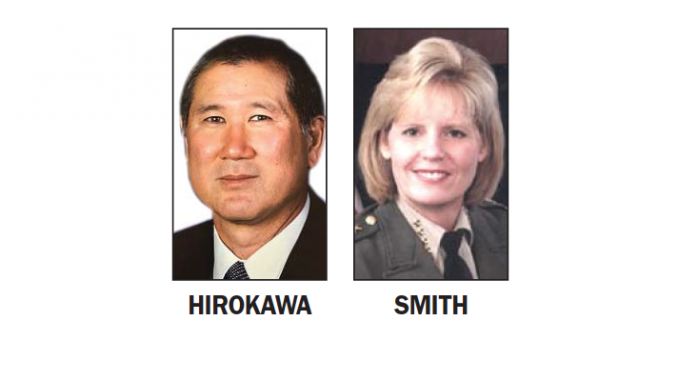 BY ALLISON LEVITSKY
Daily Post Staff Writer
Santa Clara County Sheriff Laurie Smith's re-election challenger, former undersheriff John Hirokawa, accused Smith yesterday of lying about the number of sheriff's deputies who were present at the Palo Alto courthouse when two inmates escaped last month.
"Reading and watching the news reports surrounding the escape and capture, it is clear Laurie Smith and her administration are doing their best to absolve themselves of any blame by deceiving the public and misstating the facts," Hirokawa said in a statement. "After 20 years in office, it is clear that the time has come for a change at the top at the sheriff's office."
Smith did not return a request for comment.
Undersheriff Carl Neusel told a Channel 5 reporter that the courthouse was overstaffed at 15 deputies when only 13 are required at the time of the escape on Nov. 6.
"This was Smith's effort to form a false narrative on the day of the escape by stating they were overstaffed to disprove a rumor that they were understaffed," Hirokawa said.
Later, Smith is accused of telling Channel 5 that the courthouse had been staffed with 13 deputies on Nov. 6. According to the sheriff's office, the two additional deputies had been traveling to the courthouse to provide extra security for a murder hearing at the time of the escape.
The claim is one that the Deputy Sheriffs' Association, or DSA, has been making since the first days after the escape.
"Sheriff Smith lied to the media when she said there were 13. I've seen the schedules. I know exactly who was there. Deputy No. 12 didn't arrive until after 11 a.m. Deputy No. 13 didn't arrive until about noon," DSA Vice President Roger Winslow told the Post.
The DSA claims that deputies are 14% understaffed in the sheriff's office.
Hirokawa has been endorsed in next year's face by former Palo Alto Councilwoman Gail Price, retired Palo Alto police chiefs Lynn Johnson and Dennis Burns, retired Los Altos police chiefs Lucy Carlton and Tuck Younis and retired Santa Clara County Superior Court Judge LaDoris Cordell, who is also a former Palo Alto councilwoman.