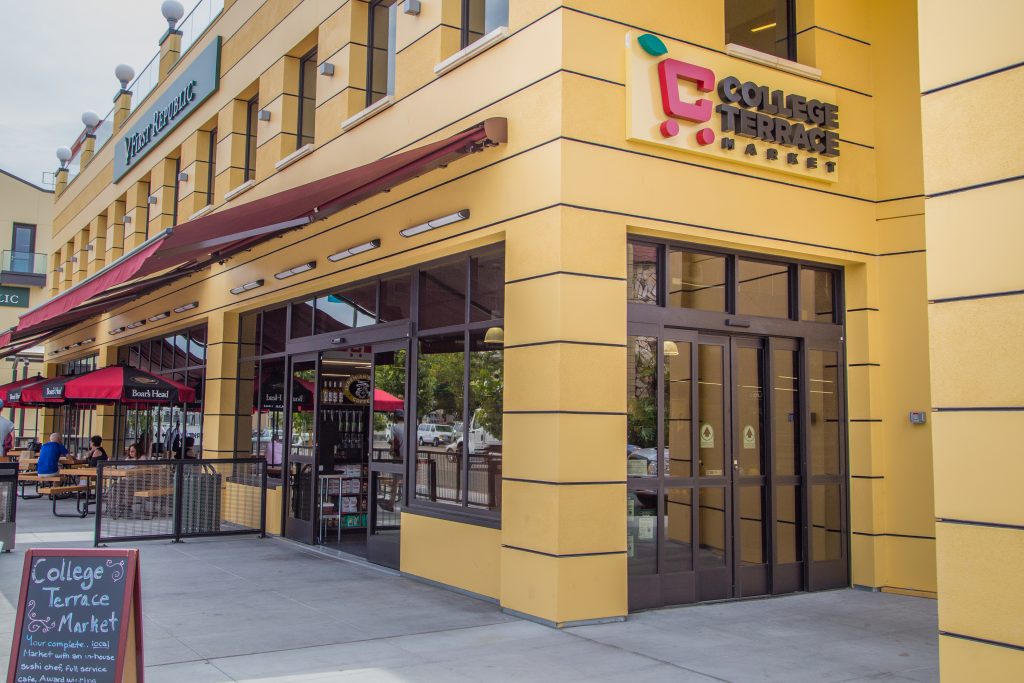 College Terrace Market in Palo Alto is more than just a neighborhood grocery store. It's where you go to find local and artisanal products, housemade gourmet foods or a heart sandwich for lunch or pot pie to take home. All this, plus a full selection of the everyday name-brand products you depend upon.
Especially convenient for residents of the College Terrace neighborhood and Stanford's Escondido Village, it's a local independent and proud of it, with wide aisles named after nearby streets including El Camino Real, College and Stanford.
You'll find everything you need there, from their full-service meat department to the shelves stocked with local and organic fruits and vegetables. Store manager Ron Jensen has also put together an incredible selection of alternative products for you, from gluten-free pastas, cereals, crackers and chips to offerings like Tofurkey, Fakin' Bacon and vegan gouda cheese and mayo.
They are committed to exceptional quality, and it shows.
In the meat department, you'll find Mary's Free Range Chicken and beef from Kansas' Creekstone Farms. Creekstone raises all its cattle on a GMO-free 100% vegetarian diet, doesn't ever use hormones or antibiotics and is an industry leader in its certified humane handling practices. All that care makes for excellent (yet still affordable) beef.
The deli offers Boar's Head meats and a huge selection of housemade pot pies, salads, and other items, and they're becoming known among the lunch crowd for their hearty and delicious custom sandwiches. If you're looking for a quick meal for yourself, you can also visit the store's salad and soup bars.
If you really want a treat, try some of their house-made baklava with some aromatic Italian roast from their coffee stand. Yum. If you're in the mood for a different kind of dessert, be sure to visit their ice cream counter, which serves up fresh Straus Family Creamery ice cream. It's delicious, local and organic.
Gourmands will appreciate the cheese counter, where cheesemonger Matthew Musselman has curated a well-rounded selection with an emphasis on artisan Northern California cheesemakers like Cowgirl Creamery of Petaluma, Sierra Nevada Cheese Company in Willows and Humboldt County's Cypress Grove Farm. The market also sells some housemade cheese spreads.
Once you have the cheese you need you can check out the craft beer selection or talk to Bob Van Hoy, the wine guy. He'll help you find all the Napa cabs and Sonoma pinots you need, or steer you to some unusual vintages you'll love to try, from Italy to South Africa.
With convenient underground parking and friendly staff, College Terrace Market offers an easy, local shopping experience. So whether you're going for groceries or just for lunch, check it out.