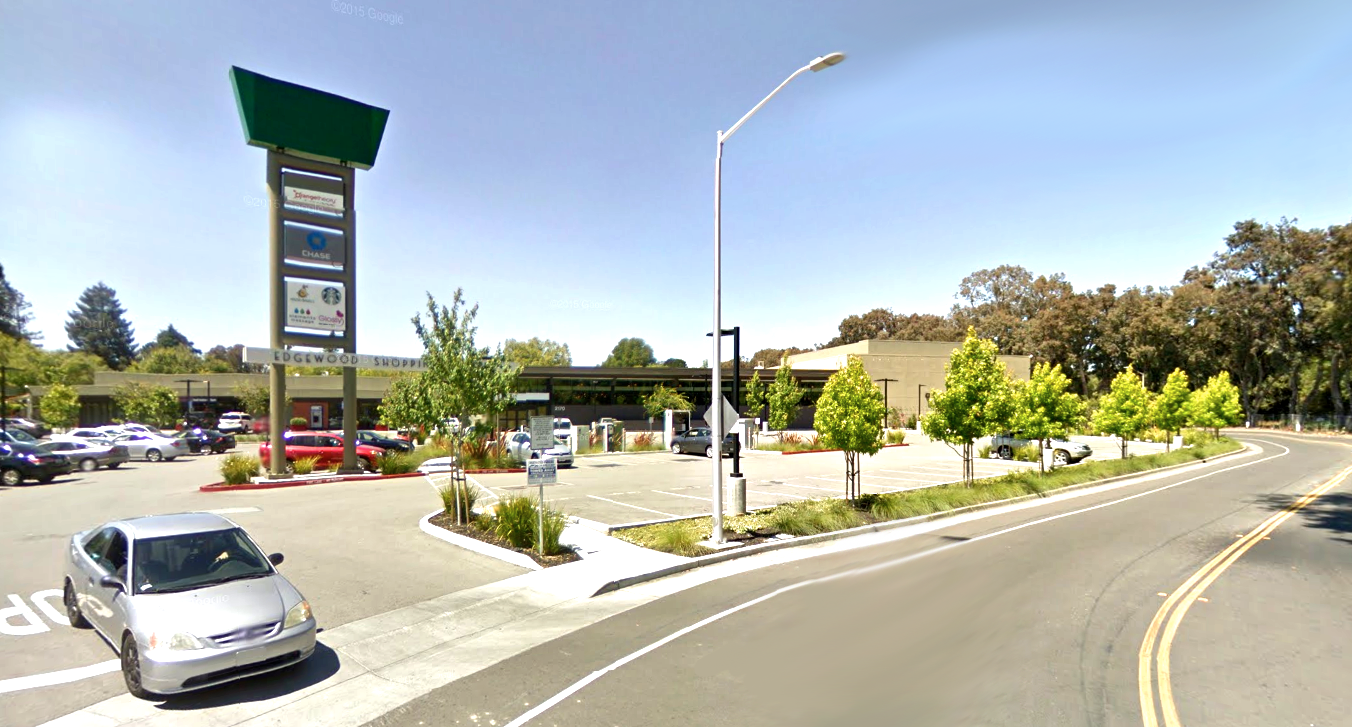 BY ALLISON LEVITSKY
Daily Post Staff Writer
Lawyers for the city of Palo Alto and the real estate developer that redeveloped Edgewood Plaza went head-to-head yesterday (Oct. 17)  in a trial over an estimated $1.3 million in fines for not continuously operating a grocery store at the shopping center.
Santa Clara County Superior Court Judge Peter Kirwan listened attentively to both sides, showing little indication of how, or how soon, he would rule. He also extended a preliminary injunction issued by another judge on June 27 that stopped the fines, effective until he rules.
"I feel good about him as a judge," Rick Jarvis, attorney for the city, told the Post. "The best we can hope for is a reasoned decision from him." Kirwan could take up to three months to issue a ruling.
"Whether it takes him a week or a month, I don't know," Jarvis said. "We'll just have to see which side he comes down on. It's hard to say."
The case hinges on whether Sand Hill Property Co. violated Planned Community ordinances 5150 and 5224, which the city approved specifically to reclassify Edgewood Plaza, located at 2170 W. Bayshore Road, for mixed-use development.
The ordinances were the result of negotiations between Sand Hill and the city in 2012.
Meaning of ordinances disputed
The ordinances allowed Sand Hill to build 10 houses with the agreement that it would provide the public benefit of a grocery store in the building.
Planned Community ordinance 5224 includes the requirement that the owner of Edgewood "shall ensure the continued use of the 20,600-square-foot building as a grocery store for the life of the project."
Sand Hill lawyer Dave Lanferman argued that the developer hadn't violated the ordinances. The Fresh Market chain closed its store at Edgewood on March 31, 2015, along with its other California stores as part of a company restructuring.
But Fresh Market remained in its 10-year lease and kept paying rent for the building, which sat empty. Lanferman noted that Sand Hill "didn't put in a temporary Halloween party store or anything."
"We've provided a suitable tenant under a long-term lease," Lanferman said. "The city didn't require anything in that lease that said they had to continuously operate."
Kirwan admitted it was "somewhat unique" to have a tenant continue paying rent, acting as a "viable, warm body" in the space.
Public benefit?
But, the judge asked, "Clearly, we're not giving the public the benefit, are we?"
Lanferman also pointed to a planned community ordinance approved by the city in 2010 for the College Terrace development at 2180 El Camino Real. That earlier ordinance specified that the grocery store "shall remain in continuous operation as a grocery store," allowing only brief closures for "ordinary business purposes."
If the city had already specified continuous operation for College Terrace, but didn't do so when writing the Edgewood ordinance, it wasn't just an oversight, Lanferman reasoned.
"When I look at this, and I dissect it, which I'm required to do, the terms 'use' and 'operations' are not synonymous. They have different meanings," Kirwan said.
When Kirwan asked Jarvis why the city hadn't used the term "continuous operation" in the Edgewood ordinance, the city's attorney said it was "subject to speculation."
Sand Hill stopped paying the $5,000-a-day fines on Jan. 22 of this year, after paying $700,500. Today, those fines total more than $1.3 million.
The Market at Edgewood is set to open at the location next month, providing a grocery store at the shopping center for the first time since 2015.